Kyrgyz Court Upholds Akaeva's Candidacy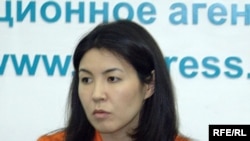 Bermet Akaeva (RFE/RL) BISHKEK, April 24, 2007 (RFE/RL) -- The Kemin district court in northern Kyrgyzstan today rejected demands to prevent the daughter of ousted President Askar Akaev from running for parliament, RFE/RL's Kyrgyz Service reported.
Bermet Akaeva's opponents alleged that she used illegal means to become a candidate in the by-elections, set for April 29.
On April 23, more than 1,000 of Akaeva's supporters staged a protest in which they occupied Kemin district court building and blocked the Bishkek-Torugart highway.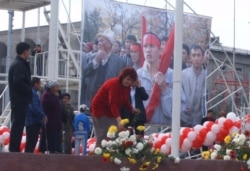 Workers preparing for celebrations of the constitutional compromise in Bishkek on November 9 (RFE/RL)


A STABLE FOUNDATION? On November 9, RFE/RL's Washington office hosted a briefing featuring RFE/RL Kyrgyz Service Director Tyntchtykbek Tchoroev and RFE/RL analyst Daniel Kimmage.
LISTEN
Listen to the complete discussion (about 80 minutes):

Real Audio
Windows Media
RELATED ARTICLES
Parliament Adopts Constitution Curtailing Presidential Powers
Crisis Deepens After President Proposes Constitutional Changes
Bishkek Prepares For Large Opposition Rally