It called in a statement on Uzbek authorities to review verdicts against Gulbahor Turaeva and Umida Niyazova.
Turaeva was sentenced to six years in jail on April 24 for of smuggling forbidden publications into Uzbekistan.
Niyazova was sentenced on May 1 to seven years on similar charges.
Both women had reported on the killing of protesters in the Uzbek town of Andijon in 2005.
(dpa, Interfax, eu2007.de)
World Press Freedom Day
NOT REALLY SO FUNNY:
The Paris-based World Association of Newspapers asked French cartoonist Michel Cambon to produce a series of cartoons on the theme of jailed journalists to mark World Press Freedom Day (May 3). Below, RFE/RL reproduces several of Cambon's cartoons.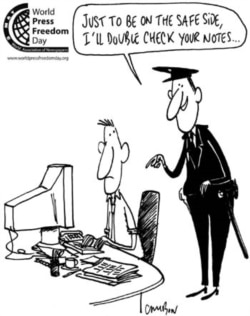 (WAN/Cambon)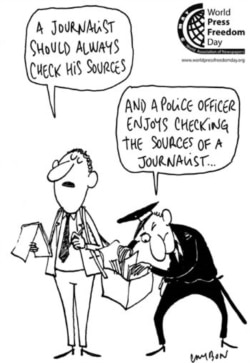 (WAN/Cambon)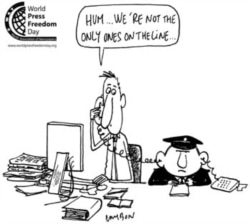 (WAN/Cambon)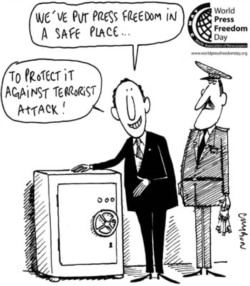 (WAN/Cambon)



RELATED ARTICLES
Threats To Press Freedom Growing More Severe
CIS Press Freedom Suffers Continued Decline
Pressure Mounting On Russian Opposition, Media
Uzbek Government Increases Its Blocking Of News Websites
ARCHIVE
To view an archive of RFE/RL's coverage of media-related stories, click here.
SUBSCRIBE
For regular news and analysis on media issues throughout RFE/RL's broadcast area by e-mail,
subscribe to "RFE/RL Media Matters."