Taliban Leader Says Attacks Will Continue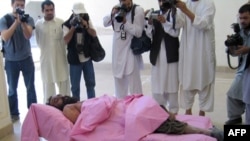 Mullah Dadullah's body was shown to journalists in Kandahar (AFP) May 14, 2007 -- Taliban leader Mullah Mohammad Omar has acknowledged that the militia's military commander has been killed, but says attacks on foreign troops will continue.
A purported Taliban spokesman, Qari Yusof Ahmadi, read a statement attributed to Omar today saying thousands of fighters were ready to take Mullah Dadullah's place.
Dadullah was killed on May 12 in a U.S.-led coalition operation of Afghan and NATO troops.
The Taliban initially rejected the announcement of Dadullah's death.
(AP, AFP)