The governor of Afghanistan's Paktia Province, Rahmatullah Rahmat, told RFE/RL's Radio Free Afghanistan that 41 Afghans have been killed or wounded in the fighting since May 13.
"The fighting in the Zazi area is still going on, although not as intensive as yesterday," Rahmat said. He said that Pakistani forces "are still attacking our positions with artillery and are threatening our security posts. Their artillery fire has damaged our villages, clinics, and schools, and civilians have suffered a lot. I must add that many people have been killed or wounded."
Rahmat said the clash erupted after Pakistani forces encroached inside Afghan territory.
Other Afghan officials are quoted as saying eight policemen and four civilians have been killed.
Pakistan army spokesman Major General Waheed Arshad accused the Afghan army of sparking the battle with "unprovoked" fire at several of its border posts.
Sunday was the third day of deadly clashes between Afghan and Pakistani government troops this month.
(with material from Reuters, AP, AFP)
Tribal Trouble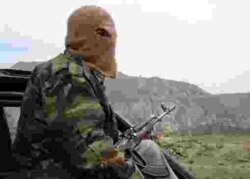 A Pakistani tribesman patrols near Wana in South Waziristan (AFP)
NO MAN'S LAND.
Fighting erupted in March involving tribesmen in Pakistan's fiercely independent western regions, where reports suggest locally backed offensives targetted Uzbek and other foreign Taliban sympathizers.
RELATED ARTICLES
Pakistan: Crackdown Could Pose Threat To Central Asia
Central Asia: Has IMU Reached The End Of The Line?
SUBSCRIBE
For regular news and analysis on Afghanistan by e-mail,
subscribe to "RFE/RL Afghanistan Report."