Tajikistan, Kyrgyzstan Discuss Water, Energy, Border Issues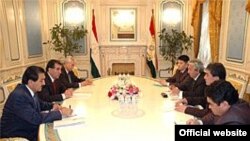 Tajik President Emomali Rahmon (second from left) meeting the Kyrgyz delegation (official site) May 17, 2007 -- Tajik President Emomali Rahmon and Kyrgyz Foreign Minister Ednan Karabaev met today in Tajikistan's capital to discuss water, energy, and border issues.
Karabaev said Kyrgyzstan fully supports the Tajik leader's proposal to set up a Central Asian water-energy consortium.
He also said Kyrgyzstan and Tajikistan have defined nearly half of their 1,000-kilometer common border.
On May 16, Karabaev and his Tajik counterpart, Khamrokhon Zarifi, signed a cooperation program between their ministries for the next two years.
(Asia-Plus, Avesta, AKIpress)