The suicide bomber was apparently targeting foreigners in an armored vehicle, but they were unhurt in the blast. A purported Taliban spokesman claimed responsibility for the bombing.
On May 27, an Afghan driver died in a double roadside bomb attack on a convoy of trucks traveling from Kandahar to Sangin District in Helmand Province.
That attack sparked a 10-hour battle between insurgents and Afghan and coalition forces, AP reported. The Afghan military said some two dozen Taliban insurgents were killed in the clashes. Residents of the village told the news agency that seven civilians were among the dead.
The latest fighting came as a Taliban spokesman on May 27 announced the start of a new insurgent operation across Afghanistan.
Qari Mohammad Yousif Ahmadi said in a statement that the operation, called "Kamin" or "Ambush," was ordered by a decision of the Taliban jihadi high council. He said that Taliban militants will use all tactics available, including suicide bombings, remote-controlled bombs, and ambushes, to fight occupying forces and the government.
Call To Protect Civilians
Meanwhile today, the top UN rights official in Afghanistan, Richard Bennett, urged both Taliban fighters and foreign military forces in the country to respect the laws protecting civilians.
Bennett said the "protection and safety of civilians must come first."
The UN today released figures showing that about 380 civilians have died in fighting in Afghanistan in the first four months of this year.
(AP, dpa)

The Afghan Insurgency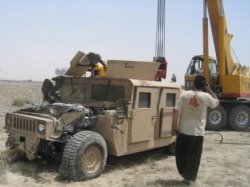 A U.S. military vehicle damaged by insurgents near Kandahar (epa)
HOMEGROWN OR IMPORTED? As attacks against Afghan and international forces continue relentlessly, RFE/RL hosted a briefing to discuss the nature of the Afghan insurgency. The discussion featured Marvin Weinbaum, professor emeritus of political science at the University of Illinois at Urbana-Champaign, and RFE/RL Afghanistan analyst Amin Tarzi.
LISTEN
Listen to the entire briefing (about 83 minutes):
Real Audio
Windows Media
ARCHIVE
RFE/RL's
coverage of Afghanistan
.
SUBSCRIBE
For weekly news and analysis on Afghanistan by e-mail,
subscribe to "RFE/RL Afghanistan Report."