Conservative commentary in Iran has reflected a cautious view of the potential or significance of the talks. On the other hand, reformists have tended to see them as a possible opening for sustained dialogue and improved relations.
The circumstances of the meeting were reported in virtually all of Tehran's newspapers on May 29, with headlines or subtle phrasing providing clues to their editorial views.
The reformist daily "Etemad" described it as a "crack in the wall of distrust," referring to almost 30 years of antagonism between Iran and the United States. "Etemad" said the Iranian and U.S. envoys met in Baghdad's Green Zone to show that "one can overlook hostility" in order to safeguard state interests.
Another reformist daily, "Etemad-i Melli," headlined its news account of the tete-a-tete "Four Hours Of Talks After 27 Years Of Quarreling." The paper editorialized that "more than a quarter century of severed relations [had come] to a symbolic end." It suggested that while the meeting in itself might not be a breakthrough, it demonstrated that the United States gravitates nearer to Iran "whenever it prefers its national interests to vapid slogans and the principle of supporting Israel's regime." The editorial suggested that the talks might be the start of constructive interaction between Tehran and Washington if U.S. officials avoid a return to "axis of evil" rhetoric.
'Mistaken Conduct'?
Another daily, "Iran," which frequently reflects the positions of Iran's executive branch, took the official line -- that Iran was there simply to discuss Iraq. It commented that Iran remains opposed in principle to dialogue with the United States because -- it says -- Washington exploits dialogue to impose its will on an interlocutor and Iran cannot accept such an aim. "Iran" daily said Iran attended in order to inform the United States of its "mistaken conduct" in Iraq and reiterate that a continued U.S. presence in Iraq would perpetuate insecurity and violence. It echoed the recent remarks of Supreme Leader Ayatollah Ali Khamenei, describing the talks as conveying an "ultimatum" to the United States. The headline repeated Iranian Ambassador Hasan Kazemi-Qomi's remark that he had "clearly expressed all our concerns" to his U.S. counterpart.
The more right-wing daily "Kayhan" played up the Iranian ambassador's criticism in a news piece headlined "Iran Reads Out The Charges." The paper conveys the impression of a meeting at which Kazemi-Qomi chided the U.S. party across the table and then emphasizes his comments regarding Iran's "humanitarian measures." "Kayhan" accused U.S. envoy Ryan Crocker of repeating "empty [U.S.] accusations" against Iran regarding involvement with the Iraqi insurgency. "Kayhan" also appeared careful to present Crocker's remarks as "claims" rather than simply statements.
Questionable Progress
"Kayhan" Editor Hossein Shariatmadari appeared to take a dim view of the talks in a subsequent interview with ISNA, saying each side had merely restated its position. Shariatmadari said the approach "showed that we and the Americans do not have common interests in Iraq." He added that the Baghdad talks were not negotiations aimed at any compromise but rather an opportunity for the United States to try to extricate itself from what he dubbed the "Iraqi quagmire." Shariatmadari said Tehran had to ensure that the Americans could not use the talks to attain their aims at Iran's expense.
Parliamentarians and officials expressed views that generally followed the official line. One member of the parliamentary National Security and Foreign Policy Committee, Mahmud Mohammadi, urged the United States to use the occasion to "adopt a new perspective" on Iran and a more realistic regional policy to "resolve its problems in the region." Another committee member, Heshmatollah Falahatpisheh, said that U.S. charges of Iranian interference in Iraq merely indicated U.S. concern at Iran's regional influence. He said that such talks could nevertheless avoid an exacerbation of distrust between Iran and the United States. Ali Akbar Velayati, a foreign policy adviser to Supreme Leader Khamenei, meanwhile said that Iran's attendance was merely aimed at demonstrating its good will, and was a response to the "hostile discourse" and accusations that the United States had directed at Iran. He said the talks showed Arab states Iran's "effective and positive role" in the region.
Across The Aisle
Reformists appeared to take a more analytical line. Journalist and press-freedom activist Mashallah Shamsolvaezin argued that Tehran and Washington cannot reach agreement on Iraq without continuing relations of some sort, according to ISNA. He said both sides currently appear "ready to establish bilateral relations." But Shamsolvaezin warned that what he labeled Israeli and Arab "radicals" -- fearing damage to their regional positions or privileged ties with the U.S. -- might try to obstruct any Iranian-U.S. rapprochement. He suggested that Israel, in particular, stands to lose from improved ties between Iran and the United States. He described Israel as "the important and disruptive threat to possible future interaction between Iran and America."
Academic Sadeq Zibakalam, in comments published in "Etemad," called the talks a "turning point" in themselves -- in that they took place openly and without subterfuge. He suggested that Iran and the United States had common goals and needs in Iraq -- a strong state that would prevent Iraq's dismemberment and later allow Iran and the United States to do business in Iraq. Zibakalam argued that there was no inherent enmity between Iran and the United States, and said agreement on Iraq could lead to shared views on other issues. He also predicted that talks would continue because both sides wanted "stability in Iraq."
The circumspection of officials and parliamentarians and seemingly optimistic remarks by reformists hint at high interest in the talks among Iranian politicians.
It is appropriate to note that interest so far appears to lie more in the fact that the talks took place than in their substance. But they could signal an end to the "taboo" in Iranian politics of formal dialogue with the United States. Might it now be politically acceptable for Iranian and U.S. representatives to talk -- or simply trade accusations -- in a formal diplomatic setting? The public insults hurled against the United States by Tehran clerics might not end tomorrow; but it looks like Iran has a new -- and perhaps more effective -- channel for expressing what it really wants to say to the United States.
U.S.-Iranian Talks In Baghdad
U.S.-Iranian Talks In Baghdad
Some perspectives on the U.S.-Iranian talks of May 28, 2007, as expressed to Radio Farda.
Mehrdad Khansari, a former Iranian diplomat and analyst who is based in London: "Today the talks with the U.S. have begun but that does not mean that the talks will have reached a result. The Iranian and U.S. governments need to [tell] their audiences that they are not abstaining from talking to each other."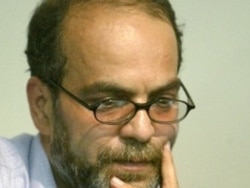 Tehran-based journalist Mashaollah Shamsolvaezin (pictured above): "There is a necessity that has forced the two countries to accept a series of new issues; these new issues are the talks that are going to begin between the two sides and I am hopeful about its future. The U.S. is facing serious [problems] regarding the situation in Iraq, from the other side is Iran facing some threats in the Middle East that come from insecurity in Iraq and also insecurity in Afghanistan. The seriousness of talks depend on the will of both sides and it seems that both sides are determined to seriously deal with issues, therefore I see a positive perspective for the Iran/U.S.talks."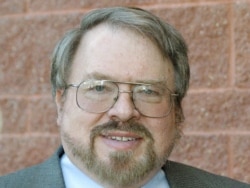 Ted Galen Carpenter, a U.S. foreign policy analyst at the Cato Institute in Washington (pictured above), says he believes the talks can help: "The United States is in a difficult position right now in that the current U.S policy in Iraq simply has not worked at all; and I think we are beginning to cast about for some alternatives and Iran can be at least modestly hopeful in that regard as long as we recognize that Iranian influence in Iraq is going to be inevitably much, much stronger than it was before."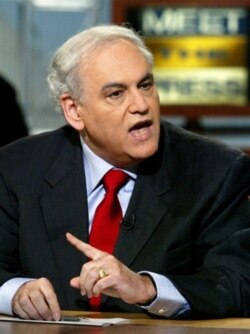 Richard Perle, a former Pentagon official (pictured above) who lobbied forcefully for a U.S. invasion of Iraq: "I don't believe [talking to Iran will] help because I don't believe there is any interest on the part of the mullahs in Tehran in changing the behavior of the government of Iran, which has been -- and I think will continue to be -- to encourage violence and disorder in Iraq."