Kazakh President Given Top Chechen Award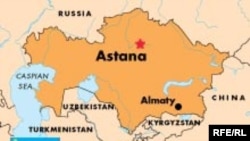 (RFE/RL) June 4, 2007 -- Kazakh President Nursultan Nazarbaev has been given a top Chechen award, the Akhmed-hadji Kadyrov award, RFE/RL's Kazakh Service reported.
During a visit to Kazakhstan on June 2-3, Chechen President Ramzan Kadyrov told reporters the award honored "the Kazakh nation for their support for Chechens deported to Kazakhstan during World War II, as well as well as Kazakhstan's continuing aid to the Russian republic.
Some 30,000 ethnic Chechens still live in Kazakhstan.
(with material from ITAR-TASS)