Treatment Of Jailed Iranian Journalist Condemned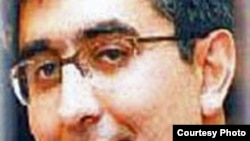 Farahbakhsh was arrested in November after returning from an economics conference in Thailand (Courtesy Photo) June 6, 2007 -- The media watchdog Reporters Without Borders has condemned the conditions in which Iranian journalist Ali Farahbakhsh is being held in Tehran's Evin prison.
RSF says Farahbakhsh is seriously ill and is being refused proper treatment by the prison authorities.
The group reiterated its condemnation of what it called Farahbakhsh's arbitrary arrest and called for his immediate release.
The journalist's mother, Badri Farahbakhsh, told Radio Farda last week that her son suffers from stomach and kidney problems.
Farahbakhsh was sentenced in March to three years in prison on charges of espionage and receiving money from foreigners.
He was arrested in November after returning from a conference in Thailand.

SUBSCRIBE For regular news and analysis on Iran by e-mail,
subscribe to "RFE/RL Iran Report."