General Yury Baluyevsky, who heads the Russian General Staff, says Moscow hopes consultations can begin after President Vladimir Putin's visit to the United States in July.
Washington has proposed installing interceptor missiles in Poland and a radar base in the Czech Republic as part of a missile-defense system, but Russia objects to the plan.
On June 7, Putin made a surprise counteroffer, saying the United States and Russia could jointly use the Russian-controlled Qabala (Gabala) radar station in Azerbaijan as part of the missile-defense system. He followed up by saying U.S. missile interceptors could be located in Turkey, Iraq, or on sea platforms.
U.S. President George W. Bush described the offer as "interesting."
(Reuters, ITAR-TASS)
Iran: Missiles And More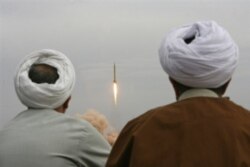 Iran tests its Shahab-3 medium-range missile in November 2006 (AFP)


HOW LONG A REACH? As the debate on missile defense sharpens, Tehran continues to develop its Shahab-3 missile, which is already capable of reaching some parts of Europe.... (more)
RELATED ARTICLES
Independent Nuclear Physicist Evaluates Iran's Nuclear Program
Iran Rocket Launch Another Show Of Prowess
How Close Is Iran To Getting Nuclear Bomb?
Iran's Super Weapons Claims Met With Skepticism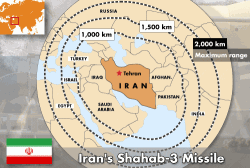 Click to enlarge the image.