Putin's offer seemed simple enough: a technical solution for a complicated strategic problem. But the question is whether the offer is strategically realistic?
The offer benefits Putin in several ways. First, it could disturb the Euro-Atlantic solidarity that was emerging with coming to power of French President Nicolas Sarkozy and German Chancellor Angela Merkel. Putin is afraid that the strategic presence of the United States in Europe would cement this alliance.
Second, the offer will likely improve Russia's image in Europe, which in recent weeks seems to have reached a nadir. Putin's goal is to seize the political initiative from the United States and prevent the further deterioration of Russia's relations with the West. The Russian president will be seen, in some quarters, as a problem solver rather than a troublemaker.
"The United States is not likely to share such important elements of its national defense with another country. That is especially true for Russia given the current state of bilateral relations."
But it also looks like Putin understands, that despite Russia's real and imagined economic and political success, Russia is too weak to compete with the United States, let alone the West, in a new arms race.
Iran Card
Therefore, Putin revealed a card he has played well before -- the Iranian card.
Putin successfully used this card in March, when Russia refused to supply nuclear fuel to Iran's Bushehr nuclear power plant for alleged non-payment and then halted construction work. The plant is being built by the Russian state-run company Atomstroieksport.
It was a move welcomed in the United States, although it did not bring as much improvement in bilateral relations as Moscow might have hoped. Still, Moscow perhaps noted the effect its Iranian policy had on the United States and the Middle East countries concerned that Iran will gain the status of a major regional power backed by a nuclear arsenal.
What makes Putin's proposal interesting for the countries worried by Iran's potential nuclear threat (which include Turkey, Israel, Saudi Arabia, Egypt, and Pakistan) is the location of the Qabala radar station.
The station, which is 180 kilometers from the Iran-Azerbaijan border, has a range of 6,000 kilometers, which means it can monitor the Middle East, China, South Asia, India, and most parts of Africa -- places the United States is concerned rogue missile attacks could originate from. (Some military experts have pointed out, however, that the radar base's proximity to Iran could reduce the system's effectiveness against missile attacks from that country.)
Problematic Proposal
But despite the radar station's wide reach, some U.S. military experts have said that the precision of the radar is lower than the one the United States has proposed to deploy in the Czech Republic .
Putin said today at the G8 in Germany that the missile interceptors, originally to be deployed in Poland, could now be sited in Turkey, Iraq, or on platforms in the Caspian Sea.
There are also a number of political difficulties associated with Putin's proposal.
The United States is not likely to share such important elements of its national defense with another country. That is especially true for Russia given the current state of bilateral relations.
Vyacheslav Nikonov, the director of the pro-Putin Politika think tank, told Channel One on June 7 that he thinks the United States will still deploy parts of the missile shield in Central Europe.
Nikonov said that while the United States can not ignore Putin's offer, Washington has already invested a lot in the European project.
He suggested that while discussing a proposed station in Azerbaijan, the United States could try to combine both projects -- in Azerbaijan and Central Europe.
However, Russia, he said, would continue to try to scupper the European project.
Moscow And Washington: Toe To Toe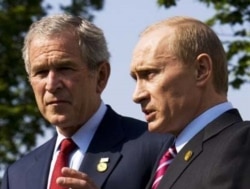 U.S. President George W. Bush (left) and Russian President Vladimir Putin at the G8 summit in Germany on June 7 (AFP)

MOUNTING TENSIONS. Relations between Russia and the United States have grown increasingly tense in recent months as issues like missile-defense, Kosovo's status, and Russia's domestic policies have provoked sharp, public differences. On June 5, U.S. President George W. Bush said democratic reforms in Russia have been "derailed"....(more)
RELATED ARTICLES
Silent Diplomacy Versus Public Criticism
Analysts Say New Arms Race Unlikely
Moscow's Patience With U.S., Allies 'Wearing Thin'
Russian Parliament Accuses U.S. Of Election Meddling
MORE: A special archive of RFE/RL's coverage of U.S.-Russian relations.