Russia requested the four-day meeting of the 30 signatory states of the CFE conference in May, after President Vladimir Putin
suspended Moscow's participation
in the pact.
The treaty, first signed in 1990, sets
limits on the number of military aircraft, tanks, and other nonnuclear
heavy weaponry that can be deployed between the Atlantic Ocean and the
Ural Mountains.
In 1999, the treaty was amended after countries in Central and Eastern Europe joined NATO.
But
the United States and other NATO members have refused to ratify the
amended version of the treaty, saying Russia must first withdraw troops
from Moldova and Georgia.
Russia's desire to update the treaty reflects Moscow's growing anxiety about what it sees as a buildup of U.S. forces in Europe.
First Russia's former Warsaw Pact allies joined NATO, then the United States started talking about putting military bases in Romania and Bulgaria.
Russia's latest objection is to U.S. plans to base parts of an antimissile system in Central Europe, saying it upsets the security balance. The United States says the shield is intended to counter "rogue" threats.
(AP, Reuters)
Moscow And Washington: Toe To Toe
Moscow And Washington: Toe To Toe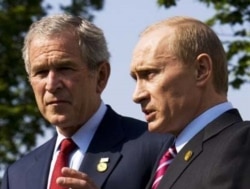 U.S. President George W. Bush (left) and Russian President Vladimir Putin at the G8 summit in Germany on June 7 (AFP)

MOUNTING TENSIONS. Relations between Russia and the United States have grown increasingly tense in recent months as issues like missile-defense, Kosovo's status, and Russia's domestic policies have provoked sharp, public differences. On June 5, U.S. President George W. Bush said democratic reforms in Russia have been "derailed"....(more)
RELATED ARTICLES
Silent Diplomacy Versus Public Criticism
Analysts Say New Arms Race Unlikely
Moscow's Patience With U.S., Allies 'Wearing Thin'
Russian Parliament Accuses U.S. Of Election Meddling
MORE: A special archive of RFE/RL's coverage of U.S.-Russian relations.