The four-day conference
was called by Russia in May after President Vladimir Putin
declared a moratorium
on Russia's participation in the pact the previous month.
Speaking at a press conference in Vienna before the start of the conference, Anatoly Antonov, head of Russia's delegation to the talks, appeared to soften Moscow's stance. Antonov said Russia had not "declared a moritorium" and was "not talking about withdrawing from the treaty."
Russia's desire to update the treaty reflects Moscow's growing anxiety about what it sees as a buildup of U.S. forces in Europe.
Antonov said Moscow wants to "revitalize" the CFE, and in the short term was considering "suspending the operation of the treaty."
Treaty Limits
The treaty, first signed in 1990, sets limits on the number of military aircraft, tanks, and other nonnuclear heavy weaponry that can be deployed between the Atlantic Ocean and the Ural Mountains.
In 1999, the treaty was amended after countries in Central and Eastern Europe joined NATO.
But the United States and other NATO members have refused to ratify the amended version of the treaty, saying Russia must first withdraw troops from Moldova and Georgia.
In Moldova's breakaway province of Transdniester, NATO has proposed that a multinational peacekeeping force replace Russian troops.
Daneil Fried, a U.S. assistant secretary of state taking part in the talks, says the differences over the CFE treaty could be resolved quickly.
If Russia withdrew troops from Moldova and Georgia, "we would move rapidly to ratify the adapted CFE Treaty and then we'd be in better shape to address further Russian concerns. But we're not going to do this without the Russians helping. They've got to do their part," Fried said.
Russia's desire to update the treaty reflects Moscow's growing anxiety about what it sees as a buildup of U.S. forces in Europe.
First Russia's former Warsaw Pact allies joined NATO, then the United States started talking about putting military bases in Romania and Bulgaria.
Missile Shield
Russia's latest objection is to U.S. plans to base parts of an antimissile system in Central Europe, saying it upsets the security balance. The United States says the shield is intended to counter "rogue" threats.
At the Group of Eight (G8) summit in Germany last week, Putin suggested that the United States and Russia jointly operate a radar station in Azerbaijan to guard against possible missile attacks.
Speaking to Reuters on June 11, the Russian delegate at the meeting, Antonov, said Putin's proposal would not be discussed at the Vienna meeting. But he hoped there would be some progress before Putin's expected meeting with U.S. President George W. Bush in July.
"There is no deadline, there was a proposal. I hope that the United States will consider it very soon and we hope that we will continue expert consultations. And I hope that there will be some ideas before the forthcoming summit between the Russian president and [the president of] the United States," Antonov said.
Putin is expected to visit Bush at his oceanside family retreat in Kennebunkport, Maine.
(compiled from agency reports)
U.S.-RUSSIA RELATIONS IN FOCUS
Allies Or Adversaries?

"I think there was too much euphoria, too much of an inclination to declare that Russia was a democracy," former U.S. national security adviser Zbigniew Brzezinski told RFE/RL.

more

Confused Or Cunning?

Harvard Historian Richard Pipes argues that Putin's Russia is confused about its role in the world and, therefore, an unreliable partner for the United States.

more
Conventional Forces In Europe
Conventional Forces In Europe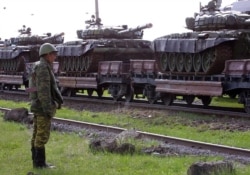 A Russian soldier watching Russian armaments leave Georgia in 2006 (epa)


AGREEMENTS ON CONVENTIONAL FORCES IN EUROPE. The CFE treaty is an arms-control agreement originally negotiated between NATO and the Warsaw Pact as a guarantor of European security in Europe in the waning days of the Cold War.

The original CFE Treaty took 10 years to negotiate, was signed by 30 states ** in November 1990, and came in to force in 1992. Its aim: to reduce stockpiles of conventional armaments between the Atlantic Ocean and the Ural mountains.
The blocs limited themselves to:
20,000 tanks
20,000 artillery pieces
30,000 armored combat vehicles
6,800 combat aircraft
2,000 attack helicopters

The CFE-1A, a 1992 addendum, has resulted in the withdrawal of more than 700,000 troops from Europe since 2001 and the destruction of 50,000 pieces of military equipment by 1995.
The CFE-II, negotiated in Istanbul in 1999, reflected the new, post-Soviet landscape by setting arms limits for individual countries, rather than zones. The agreement aided NATO's expansion efforts by allowing signatory states to allow foreign forces on their soil.
NATO states have not ratified the CFE-II due to concerns over Russia's failure to comply with commitments it made during the negotiations. Under the Istanbul Accords, Russia pledged to set a timetable for closing its remaining military bases in Georgia and to completely withdraw its forces from Moldova.
The CFE-II will come into force once ratified by all 30 CFE signatories. Thus far only Belarus, Kazakhstan, Russia, and Ukraine have ratified the CFE-II.
In ratifying the agreement in June 2004, Russia called on the signatories not to delay in ratifying the document. Russia expressed concern that Lithuania, Estonia, and Latvia, as nonmembers of the treaty, could possibly harbor NATO troops near its western border.
(** Armenia, Azerbaijan, Belarus, Belgium, Bulgaria, Canada, Czech Republic, Denmark, France, Georgia, Germany, Greece, Hungary, Iceland, Italy, Kazakhstan, Luxembourg, Moldova, the Netherlands, Norway, Poland, Portugal, Romania, Russia, Slovak Republic, Spain, Turkey, Ukraine, the United Kingdom, and the United States. )