A State Duma commission on the North Caucasus said fights in which ethnic Slavs clashed with Chechens and members of other minority groups from the Caucasus region were "banal clashes between local youth groups."
Eyewitness to a massive riot on May 24 said the fighting began when a group of Russian skinheads, aided by police, assaulted a group of Chechens and other minorities.
(Interfax, RIA-Novosti)

No Way Out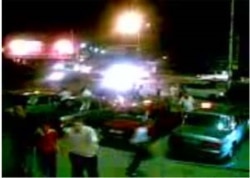 A screen shot of amateur video depicting the scene in Stavropol on May 24 (RFE/RL)
OUTNUMBERED: Hasan Gakiyev, a young Stavropol resident, was among the Chechens caught up in the city's violent ethnic clashes on the night of May 24. He says the Chechens might have been able to walk away from the confrontation with local skinheads had it not been for local OMON riot police, who created a blockade preventing their escape. He told his story to RFE/RL's North Caucasus Service.
We went outside around 8 o'clock at night. The non-Russians gather in the northwestern part of the city, near a salon with slot machines.
As we were hanging out, a group of skinheads approached us. Most of them had completely shaved heads, although some of them had some hair.
One of them asked if we knew that one of "ours" had been beaten up recently. We did know that one day earlier, a young man was severely beaten and was in the hospital. He was hit in the head three times with a steel rod.
"Was that your comrade?" they asked.
We answered: "Yes, that was our friend. So what happened?"
"We were the ones who beat him," they said.
As we were discussing this, three police officers approached. One of them suggested that a person from each group fight it out one on one, and then we could disperse and go home.
We agreed. After our comrade beat up one Russian, we continued sorting things out for about five minutes. When we walked away, they began throwing rocks and bottles at us. Very soon, a fully-equipped group of OMON was in front of us. So we were trapped between the OMON and the skinheads.
The OMON officers said to us: "Calm down. That's it. Quiet. Calm down." We told them not to talk to us, but to those who were chasing us.
From time to time, the OMON would give orders to the skinheads to beat us. We tried to fight back, but we were outnumbered. We tried to run away, but many of us were caught and brought to the local OMON headquarters.