Kazakh President Says Against Lifting Term Limit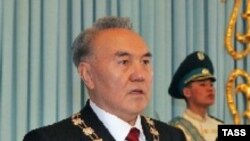 Nursultan Nazarbaev has ruled Kazakhstan since independence in 1990 (ITAR-TASS) OSTKAMENSK, Kazakhstan, June 15, 2007 (RFE/RL) -- Kazakh President Nursultan Nazarbaev said today during a visit to the northern Kazakh city of Ostkamensk that he was against an amendment to the constitution that removed a term limit for him to run for president, RFE/RL's Kazakh Service reported.
The amendment was part of a package of changes that Kazakhstan's parliament approved in May.

Under the change, Nazarbaev, as first president of Kazakhstan, has no limit on the amount of times he can run for reelection.

Nazarbaev said he did not raise the issue and still advocated a two-term limit.