U.S. Says 14 Soldiers Killed In Three Days In Iraq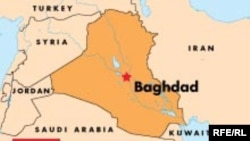 (RFE/RL) June 22, 2007 -- The U.S. military says 14 U.S. soldiers have been killed in the past three days of fighting in Iraq.
The military reported the deaths of six soldiers on June 21, including five who were killed in a roadside bomb explosion in Baghdad.
Four Iraqis -- an interpreter and three civilians -- also were reported killed in that attack.
At least 3,545 U.S. troops have been killed in Iraq since the March 2003 invasion.
In other violence, police say a suicide truck bomber killed at least 16 people when he rammed his vehicle into the municipal headquarters of a northern Iraqi town on June 21.
The attack occurred in Sulaiman Pek, a town 90 kilometers south of Kirkuk.
Police say the dead included women and children.
(AP, AFP)