Police said the attack occurred in Sulaiman Pek, a town 90 kilometers south of Kirkuk.
Women and children are believed to be among the dead.
Meanwhile, in the capital, Baghdad, several mortars landed inside the heavily fortified Green Zone.
The Green Zone houses Iraq's parliament, as well as the U.S. and British embassies.
It is unclear if there were any casualties.
In other developments, the U.S. military said two of its soldiers were killed on June 20 in a roadside bombing southwest of Baghdad.
More than 3,800 coalition soldiers have died in Iraq since the March 2003 invasion.
(compiled from agency reports)
Searching For A Way Forward
Searching For A Way Forward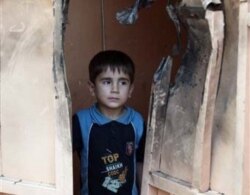 A boy looks out from his Baghdad home (AFP)
LOOKING BEYOND AL-MALIKI: RFE/RL Iraq analyst Kathleen Ridolfo led an RFE/RL briefing about the changing political landscape in Iraq, focusing on efforts to gain the upper hand in the event that the government of Prime Minister Nuri al-Maliki falls.
LISTEN
Listen to the entire briefing (about 70 minutes):

Real Audio
Windows Media
RELATED ARTICLES
Opposition Appears Set On Bringing Down Al-Maliki
Former Premier Pushing New Plan For Reconciliation
Al-Sadr Prepares For Post-Coalition Era
Sunni Ultimatum Rocks Al-Maliki's Position


THE COMPLETE STORY: RFE/RL's complete coverage of events in Iraq and that country's ongoing transition.