Those fears have been highlighted by a demonstration in Mashhad against former reformist President Mohammad Khatami and sharp verbal exchanges recently in parliament.
The incidents come amid near-daily reports -- especially in reformist newspapers -- of convergence among reformists. Many would-be reformers see a united front and single electoral list -- led by prominent moderates and veterans -- as the best chance of winning a parliamentary majority.
The Mashhad demonstration on June 18 was by a group of right-wing radicals and seminarians who gathered outside a special clerical court in eastern Iran. The protesters demanded the prosecution of ex-President Khatami for having shaken hands with women during a recent trip to Italy -- something that is banned under a strict interpretation of the Shari'a laws that govern Iranian life.
More recently, parliamentarians have responded with hostility to allegations by reformist legislators that reformists were being censored by the chamber's presidium. One right-wing lawmaker accused unspecified critics of the government of having ties to British espionage networks, while another warned of dire consequences if reformists regained control of parliament.
Reformist Reaction
The headline of the reformist daily "Etemad's" front-page report on the seminarians' protest against Khatami suggested that a "radical current" has begun "a new round of attacks against reformists."
Another reformist daily "Etemad-i Melli" reported that the hostile exchanges in parliament signaled that a "hostile front against reformists" was "taking shape in planned pre-session speeches in parliament." "Etemad" saw the speeches and protest in the context of the coming elections, wherein, it claimed, "there is said to be a great possibility of a reformist victory" fueled by perceived failures since Mahmud Ahmadinejad was inaugurated president in 2005.
Reformists believe December's local-council polls represented voters' rejection of the government and support for moderates and reformists. Ahmadinejad supporters dismiss that interpretation. But a fractured right wing might be nervous at the possibility of facing a centrist front led by prominent politicians.
Sword Of Damocles
Even if prominent centrists like Ali Akbar Hashemi-Rafsanjani, Mehdi Karrubi, or ex-President Khatami do not run for parliamentary seats, they could allow themselves to be associated with such a front, and discreetly campaign for it.
One way to preclude the electoral usefulness of such figures might be through lawsuits. The leadership has employed the selective or arcane use of laws and legalism to exclude unwanted individuals from public life in the past. Such processes can drag on like a persistent, low-level pain -- without necessarily leading to prison -- and deprive the accused individual of political verve and motivation.
The seminarians who targeted Khatami outside a branch of Iran's special court for Shi'ite clerics in Mashhad on June 18 reportedly filed a formal complaint with the court. Evidence was said to include video footage showing Khatami shaking hands with "half-naked Italian women" on one of his numerous trips abroad -- where he frequently discusses conflict resolution or rapprochement between religions. Protesters carried placards denouncing Khatami's tolerance and alleged moral laxity and urged prosecutors to respond and defend the clergy's tainted honor.
The court might or might not prosecute Khatami. For his part, Khatami might rethink how critical or outspoken he wishes to be in the nine months leading to parliamentary elections.
Double Standards?
It is notable that photographs appeared in some newspapers some weeks ago of President Ahmadinejad, not shaking, but kissing the hand of his elderly former teacher. Those images drew expressions of disbelief from religious conservatives, but the episode has all but disappeared from public attention.
As the reformist daily "Aftab-i Yazd" likes to remind its readers intermittently in editorials, offenses against decency and morals are either "outrageous" or "negligible" in Iran -- depending on who commits them.
One reformist who is a former cabinet minister, Morteza Haji, urged judicial and intelligence authorities to "at least reveal to the public" the identities of the people he accused of being intent on discrediting ex-President Khatami, "Aftab-i Yazd" reported on June 24.
Lawmakers Joust
"Etemad" and "Etemad-i Melli" also gave prominent coverage to recent verbal clashes between reformists and conservatives in parliament. Reformists have denounced as censorship a June 17 decision by parliament's presidium to discontinue the practice of reading out the names of groups of legislators who criticize the government, citing time constraints. Conservatives have in turn accused reformists of using the criticism to grandstand and waste parliamentary time.
On June 20, in what "Etemad-i Melli" believed was a move planned the previous night, two conservative lawmakers launched sharp attacks on reformists. Mahmud Abtahi told the chamber that an unspecified group was constantly attacking the government, using "rude words" and aggressive manners. He accused those critics of ties to corruption and to British spies, and threatened to make their names public. Qaenat representative Musa Qorbani separately warned legislators to remember the sixth parliament, which he said hurled "swear words" at the Guardians Council, a body of senior jurists, and the judiciary, and sought to defend "offenders" and ratify laws that senior officials had declared "illegitimate."
"Etemad" suggested that the political right feared adverse election results in March. The paper accused rightists of trying to "target" prominent reformist personalities and of trying to make it easier for the Guardians Council to strike down the candidacies of reformists over perceived "deviations." The daily quoted the head of the reformist Islamic Revolution Mujahedin Organization, Mohammad Salamati, as saying that -- given public discontent with the government's performance -- a return to power by reformists was "certain." Salamati added that he "doubt[s] the people will once more turn to" a radical right wing at the ballot box.
Reformists know, of course, that public support is not always enough to place them in positions of power. They suspect right-wing adversaries might use various means to exclude them from power -- including legal charges and political accusations.
The reformists' move toward the political center -- and their increasing association with prominent centrist statesmen like ex-Presidents Khatami and Rafsanjani -- might signal a bid to win greater "institutional" protection to bolster their popular support. But it might also prompt arch-conservative sympathizers with Ahmadinejad and the Guardians Council to target those "institutional" safeguards as Iran's parliamentary elections draw near.
The Iranian Economy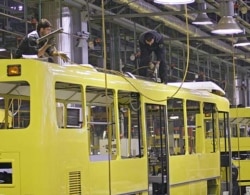 Buses being produced at a factory in Tehran (Fars)

IN NEED OF DIVERSIFICATION. Populist Iranian President Mahmud Ahmadinejad is having trouble fulfilling his promises to put the country's petrodollars on the plates of average citizens. Inflation and unemployment remain high and the economy is dominated by the energy sector.
RELATED ARTICLES
Foes Challenge President's Economic Rhetoric
Power Cuts In An Energy-Rich Land Spark Protests
Government Balks At Gasoline Rationing
Weak Economy Challenges Populist President
ARCHIVE
RFE/RL's
coverage of Iran
.
SUBSCRIBE
For weekly news and analysis on Iran by e-mail,
subscribe to "RFE/RL Iran Report."