Mohammad Asif Nang, the editor of the government magazine "Peace Jirga," was detained on July 1, while Kamran Mir Hazar, editor of the kabulpress.org website, was taken into custody on July 4. Both journalists had criticized the government.
The Paris-based group Reporters Without Borders calls the detentions illegal and questions why no charges have been brought. The International Federation of Journalists says it is "outraged" at the detentions.
Meanwhile, U.S.-led coalition forces said today more than 30 Taliban were killed in air and ground attacks in Afghanistan's southwestern Farah Province on July 6 after militants ambushed Afghan police and soldiers.
The coalition says it is unaware of civilian deaths. But the Afghan government says it is checking into reports of heavy civilian casualties in Farah and in eastern Kunar Province, where NATO-led forces say air raids killed a "number" of militants on July 5 and 6.
British Prime Minister Gordon Brown called Afghan President Hamid Karzai overnight to reiterate his country's commitment to Kabul. In a statement, Karzai's office quoted Brown as saying "Afghanistan's security is the world's security."
Brown said the struggle against terror will "aggressively continue" and that more efforts will be made toward reconstruction. Brown says British policy will not change toward Afghanistan under his leadership.
(with material from agency reports)
Who Speaks For Islam?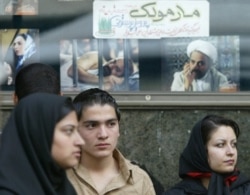 Young Muslims at a movie theater in Tehran (AFP file photo)


CROSS-CULTURAL DIALOGUE: On June 13, RFE/RL hosted a roundtable discussion entitled "Who Speaks For Islam?" The event was hosted by U.S. Undersecretary of State for Public Diplomacy and Public Affairs Karen Hughes and featured scholars of Islam from the United States, Europe, and the Middle East.
LISTEN
Listen to the entire briefing (about 2 hours and 15 minutes):

Real Audio
Windows Media
RELATED ARTICLES
Undersecretary Of State Pushes For More Interfaith Dialogue
Prominent Western Muslim Rejects 'Clash Of Civilizations' Idea
Scholar Warns Europe Of 'Clash Within Civilization'
Antiterrorism Battle Can't Be Won Without Full Muslim Involvement

A thematic webpage devoted to issues of religious tolerance in RFE/RL's broadcast region and around the globe.