Hosseini said the ambassador spent five hours with the detained Iranians who all said they were innocent of any wrong doing and demanded to be released.
The Iranian government today urged Iraq to release the detainees.
The five Iranians were taken into custody by U.S. military forces in Iraq in January on suspicion the Iranians were helping Iraqi insurgents.
(dpa, AFP)
FURTHER READING
Expert Discusses Iran's Quds Force

Mahan Abedin, director of research at the London-based Center for the Study of Terrorism, gives RFE/RL background on the Islamic Revolution Guards Corps and the Quds Force.

more

Is Iran Helping The Taliban?

The United States and NATO have charged that Iranian-produced weapons are reaching insurgents in Afghanistan.

more
Iraqi Insurgent Media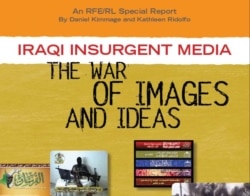 GETTING THE MESSAGE OUT. RFE/RL analysts Daniel Kimmage and Kathleen Ridolfo have produced a book-length study on the media efforts of the insurgency in Iraq and on how global jihadists are exploiting those efforts to spread their destructive message around the world....(more)
DOWNLOAD
(pdf format):
Part One Part Two Part Three Part Four Part Five



THE COMPLETE STORY: RFE/RL's complete coverage of events in Iraq and that country's ongoing transition.