Former Moldovan Defense Minister Acquitted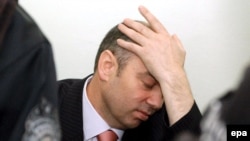 Valeriu Pasat (file photo) (epa) July 9, 2007 -- An appeals court today freed former Moldovan Defense Minister Valeriu Pasat, overturning his conviction for abusing his position in the sale of 21 fighter planes to the United States.
Pasat was convicted in January 2006 and sentenced to 10 years in prison.
Pasat, who was defense minister from 1997 to 1999, was accused of selling the MiG-29 planes for $40 million when the country could have received more money from Iran, which had offered to pay the poor former Soviet republic $90 million.
(AFP, AP)