Reports Say Turkey, Iran Reach Accord On Gas To Europe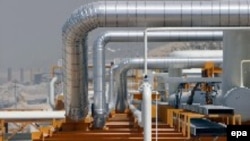 Iranian natrual-gas facility at South Pars (file photo) (epa) July 15, 2007 -- Reports say Turkey and Iran have reached a preliminary agreement to carry natural gas from Iran and Turkmenistan to Europe.
Anatolia news agency quotes Turkish Energy Minister Hilmi Guler as saying a memorandum was signed in Ankara on July 13.
The deal is seen as boosting prospects for the planned Nabucco pipeline, which would carry gas from the Middle East and Central Asia to the European Union via Turkey and the Balkans, bypassing Russia.
(AFP)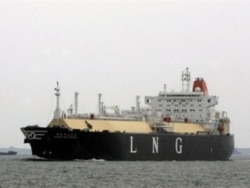 A tanker carries liquified natural gas to markets in Asia (AFP)

COMING TOGETHER? PFC energy analyst Nikos Tsafos and RFE/RL energy analyst Roman Kupchinsky discussed with an RFE/RL briefing what the likelihood is of a natural-gas-producers consortium being formed and what such an organization might look like.
LISTEN
Listen to the entire briefing (about 70 minutes):

Real Audio
Windows Media
RELATED ARTICLES
Vision Of Global Gas Cartel Gains Clarity
Putin To Take His Message To The Persian Gulf
Iranian Politicians Support Establishment Of Natural-Gas Cartel
'Gas OPEC' Moves Closer To Becoming Reality