To the west, Ankara wants to exploit its position to gain leverage with the world's second-biggest energy consumer, the European Union, whose membership Turkey seeks. Looking east and south, Turkey strives to expand its influence in countries that supply the oil and gas Europe needs, especially Central Asia.
With nearly three-quarters of the world's oil and gas reserves located immediately to the east and south of it, and the world's biggest energy importer, the European Union, to the west, Turkey is ideally placed to become a crucial energy bridge.
At a conference this week in Istanbul, Turkish officials explained how Ankara is now working to develop this advantage with an eye on becoming Europe's fourth main gateway for energy imports, alongside Russia, Norway, and Algeria. Apart from economic gain, Ankara also seeks leverage in its faltering accession talks with the EU and wants to expand its influence in Central Asia and other energy-producing regions in its neighborhood.
Turkey is vitally interested in the construction of a pipeline under the Caspian Sea to funnel Kazakh and Turkmen gas via Azerbaijan and Georgia to Turkey.
Wary Partners
But Turkey has its work cut out for it. Two large EU member states, France and Germany, would prefer Turkey to stop short of full membership. They are also wary of antagonizing Russia, the EU's biggest energy supplier. Both sides may overestimate their strength.
EU Enlargement Commissioner Olli Rehn likes to say that while "the EU underestimates Turkey's strategic importance, Turkey overestimates it."
Ankara's transit ambitions depend on the EU's collaboration. To be able to use Turkey's transit capacity, the EU will need to develop pipeline projects such as Nabucco, connecting its biggest southern gas hub in Austria with Turkey. Equally, Turkey needs EU backing to tap into the lucrative energy markets in Central Asia.
The EU used the Istanbul conference to offer Turkey reassurances. Georg Boomgaarden, secretary of state at the German Foreign Ministry, told his Turkish hosts the EU is keen to begin importing into Central Asian and Middle Eastern gas via Turkey.
"We hope that the [Baku-Tbilisi-Erzurum] pipeline will begin operations soon," Boomgaarden said. "Other major, new projects are the Nabucco pipeline via Bulgaria, Romania, and Hungary to Austria; and the southern European 'gas ring' via Greece to Italy. All these projects should be continued with vigor in spite of the numerous legal and economic challenges."
Yet the companies involved in planning for the more than 3,000-kilometer Nabucco pipeline say they do not expect an EU go-ahead before the end of the year. The bloc's resolve has been undermined by Russia's Gazprom's plans to construct a rival pipeline.
Nabucco, together with the southern European "gas ring" could supply nearly 10 percent of the EU's gas imports in 2020. Yet again, Gazprom appears keen to thwart that prospect.
Russia Watching Closely
Russia wants to supply as much of the gas flowing to Europe as possible. To this end, President Vladimir Putin last month clinched deals with Kazakhstan and Turkmenistan, Central Asia's main energy exporters, apparently securing for Russia transit rights for their gas.
For it's part, Turkey is vitally interested in the construction of a pipeline under the Caspian Sea to funnel Kazakh and Turkmen gas via Azerbaijan and Georgia to Turkey. Turkey currently draws 60 percent of its gas imports from Azerbaijan, but Central Asia holds vastly superior reserves. Much of Azeri gas is currently used by Georgia, which has been cut off by Russia. A pricing dispute between Turkey and Azerbaijan also complicates matters.
Again, the EU made encouraging noises in Istanbul. The bloc's energy commissioner, Andris Piebalgs, said the EU, too, wants a trans-Caspian pipeline.
"The trans-Caspian natural gas connection is our common next step," Piebalgs said. "Turkey and the European Union must emphasise [a] strong willingness to realize this project and coordinate our efforts."
EU policymakers have long acknowledged the need to balance Russian energy imports with alternative sources. They calculate the Caspian Sea region could provide up to a quarter of the EU's gas in 2020 -- when the EU will need to import more than 70 percent of the gas it uses. However, these calculations have not been translated into political action.
All Eyes On Central Asia
Central Asian countries, fearful of souring their relations with Russia, would need very strong encouragement from the EU.
Turkish officials at the Istanbul conference sharply criticized the EU for dodging that challenge.
Turkish Energy Minister Hilmi Guler said the EU "needs to force the gas-owning countries to invest" in the pipeline.
Ambassador Mithat Balkan, energy coordinator at the Turkish Foreign Ministry, told RFE/RL the EU should lean on the Central Asian governments.
"Central Asian leaders are looking, to my mind, for more intensified dialogue with European leaders at a political level," he said. "The European Union needs to go there at both the [European] Commission level and at the member-state political level to show the interest to attract them more to cooperation with Europe."
Guler also underlined that the trans-Caspian pipeline is also very important for Turkey to restore its ties to the wider "Turkic world," the four Central Asian countries where languages closely related to Turkish are still spoken.
'Pragmatic Approach'
Guler and other Turkish officials were careful to indicate they believe a trans-Caspian pipeline could be put into operation without harming Russia's interests in the region -- there is enough gas for export.
However, the EU's special representative for Central Asia, Pierre Morel, told RFE/RL the EU prefers a "pragmatic approach," without any "political prejudice."
"Nobody can say that there is one specific option forever [for transit across] the Caspian Sea right now," Morel said. "So, rather than think 'I prefer this [or] that route or that country or that formula' or 'I prefer the reverse because it gives me the best political advantage,' first we have to look at the substance of the problem. In the end, if you want to develop locked resources, you need investment -- it has been said endlessly. If you want to develop investment for these resources, you need a good investment climate."
Morel went on to say that an atmosphere of political conflict will not be conducive to investments. He said the EU, in this instance, is currently studying a "middle way" between a fully fledged gas pipeline and the very expensive transiting of liquefied natural gas. That alternative would be shipment in the form of compressed gas.
Morel speaks for those EU countries which believe good relations with Russia in the long-term outweigh the potential gains from quick measures to neutralize Moscow's dominance over the bloc's energy imports.
One EU diplomat, warily eyeing Russian moves in Central Asia, told RFE/RL the EU may have "till September" -- when the Russian-Kazakh and Russian-Turkmen deals will be finalized -- to secure independent access to Central Asian gas.
Turkish officials at Istanbul appeared keenly aware that without a trans-Caspian pipeline, Turkey's transit ambitions will be stunted. Nonetheless, their sense of urgency was not matched by the EU. While Energy Minister Guler will visit Azerbaijan and some Central Asian countries next week, EU Energy Commissioner Piebalgs will next arrive in the region late in 2007.
Exporting Kazakhstan's Energy
Exporting Kazakhstan's Energy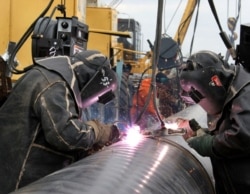 Work on a Kazakh pipeline (TASS file photo)


PRESSURE FROM THE KREMLIN? Columbia University political science professor Kimberly Marten told an RFE/RL briefing that Russia seems to be using its control of gas pipelines in the former Soviet Union to pursue its goals in Kazakhstan.
LISTEN
Listen to the entire briefing (about 60 minutes):

Real Audio
Windows Media
RELATED ARTICLES
The Emerging Post-Soviet Petrostates
Nazarbaev, Merkel Discuss Energy, Bilateral Ties
Nazarbaev Talking Energy, Economic Cooperation On China Visit
ARCHIVE
RFE/RL's coverage of
Kazakhstan
.