Al-Sadr Bloc Ends Boycott Of Iraqi Parliament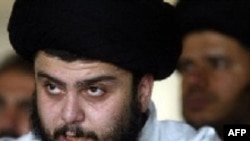 30 lawmakers belong to Muqtada al-Sadr's bloc (AFP) July 17, 2007 -- The Iraqi parliamentary bloc loyal to radical Shi'ite cleric Muqtada al-Sadr has ended its nearly five-week boycott of parliament.
Lawmakers from the 30-member bloc walked out of the legislature last month after the bombing of the Al-Askari Mosque, a revered Shi'ite shrine in the city of Samarra, which al-Sadr blamed in part on the failure of Iraqi security forces.
The bloc had said it would return if the government developed a plan to rebuild the Samarra shrine.
(AFP, AP)

SUBSCRIBE For weekly news and analysis on Iraq by e-mail,
subscribe to "RFE/RL Iraq Report."