Russian newspapers said under the bill, the Federal Security Service (FSB) has received the right to veto deals.
The bill has been delayed and revised repeatedly since President Vladimir Putin ordered its drafting in 2005.
It does not cover investment in the oil and gas sectors, as a separate law regulating them is still being worked out.
Meanwhile, the Japanese carmaker Toyota has announced plans to open a new production facility and a bank in Russia later this year.
The new production facility is expected to start operations in December near St. Petersburg.
A spokesman for Toyota KreditBank in Cologne said today that Russia has the potential to become one of the biggest automobile markets in Europe.
He said the Russian central bank has already issued a license for the new bank.
(AFP, "Kommersant," "Vedomosti," dpa)
The Post-Soviet Petrostate
The Post-Soviet Petrostate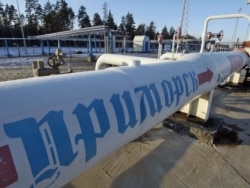 The oil-export terminal at Primorsk, Russia (TASS)


WEALTH AND POWER. At an RFE/RL briefing in Washington on January 24, Freedom House Director of Studies Christopher Walker and RFE/RL regional analyst Daniel Kimmage argued that energy-sector wealth is preventing many former Soviet countries -- Azerbaijan, Kazakhstan, Russia, and Turkmenistan -- from developing strong democratic institutions.
LISTEN
Listen to the entire briefing (about 90 minutes):

Real Audio
Windows Media
RELATED ARTICLES
Russia's Gazprom Looks Ahead To A New Year
Azerbaijan: Coping With The Oil Windfall
Azerbaijan Boom Sparks Fears Of Dutch Disease
Kazakh President Tells West -- We Don't Need Your Advice
Could Turkmen President's Death Lead Instability?