Serbian lawmakers passed a resolution late in the day on July 24 promising an "energetic response" against countries that might recognize independence for the mainly ethnic-Albanian province.
A UN Security Council resolution on Kosovo's future was set aside July 20 in the face of a possible veto by Russia, which has joined Serbia in opposing Kosovo's independence.
Russia said it contained a hidden route to independence.
The international Contact Group -- Britain, France, Germany, Italy, Russia, and the United States -- is due today to initiate fresh diplomatic efforts on the future status of the breakaway province when it meets in Vienna.
Kosovar President Fatmir Sejdiu said on July 23 after talks with U.S. Secretary of State Condoleezza Rice that Pristina will not unilaterally declare independence, but will coordinate its future with the United States and Europe.
He added, however, that Kosovo "cannot remain hostage" to the obstruction of "some countries," a clear reference to Russia.
(AP)
Final Status For Kosovo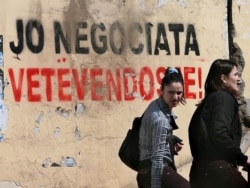 Pro-independence graffiti in Prishtina (epa)

FINALLY STATUS? Sabine Freizer, director of the Crisis Group's Europe Program, told an RFE/RL briefing that deep divisions in the UN Security Council make it uncertain what form Kosovo's future status might take.
LISTEN
Listen to the entire briefing (about 70 minutes):

Real Audio
Windows Media
ARCHIVE
RFE/RL's coverage of
Kosovo
. The website of
RFE/RL's South Slavic and Albanian Language Service
.