Arriving at the talks, Swedish Foreign Minister Carl Bildt urged EU unity over the issue, which he said is key to the bloc's credibility.
"I think we know, roughly, where we are heading long-term, but the way in which we get there is extremely important," Bildt said. "To preserve the stability of the Balkans, the stability of the solution, the implementability of that particular solution -- that would require a period of diplomacy. And keeping the unity of the European Union, I think, is absolutely paramount to our credibility long-term, both in the Balkans and elsewhere."
A UN Security Council resolution on Kosovo's future was set aside on July 20 in the face of a possible veto by Russia, which has joined Serbia in opposing Kosovo's independence.
The international Contact Group -- Britain, France, Germany, Italy, Russia, and the United States -- is due to initiate fresh diplomatic efforts on the future status of the breakaway province when it meets in Vienna on July 25.
German Foreign Minister Frank-Walter Steinmeier said today in Brussels he believes a smaller international troika of the European Union, Russia, and the United States should take charge of the Kosovo talks. He said such an arrangement would offer the "best chance" to secure a deal.
Also at today's meeting, EU foreign ministers will discuss the bloc's relations with Libya amid an ongoing dispute over the detention of six foreign medics convicted of infecting Libyan children with HIV.
Portugal, the current holder of the rotating EU Presidency, will also submit the draft of the bloc's new reform treaty.
(compiled from agency reports)
Final Status For Kosovo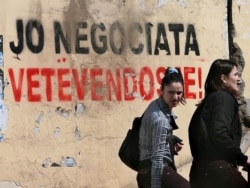 Pro-independence graffiti in Prishtina (epa)

FINALLY STATUS? Sabine Freizer, director of the Crisis Group's Europe Program, told an RFE/RL briefing that deep divisions in the UN Security Council make it uncertain what form Kosovo's future status might take.
LISTEN
Listen to the entire briefing (about 70 minutes):

Real Audio
Windows Media
ARCHIVE
RFE/RL's coverage of
Kosovo
. The website of
RFE/RL's South Slavic and Albanian Language Service
.