The resolution passed unanimously on July 31, and the Sudanese government says it will accept the force. But to win that acceptance, and to get the backing of China, the measure includes compromises that some say might fatally weaken the effort to end the slaughter, which the United States calls genocide.
UN officials hailed the resolution's passage, most of them indicating that it will soon end years of bloodshed.
Persuading China to accept the resolution on peacekeepers reportedly was nearly difficult as obtaining Sudan's acquiescence because of Beijing's close commercial ties with Khartoum.
"By authorizing the deployment of a hybrid operation for Darfur, you are sending a clear and powerful signal of your commitment to improve the lives of the people of the region and close this tragic chapter in Sudan's history," UN Secretary-General Ban Ki-moon said.
Western nations also welcomed the vote, but expressed some concern that the peacekeeping force will have enough of a mandate to end the killing.
"The catastrophe of Darfur will not be ended by the raising of 15 hands in this chamber, the suffering will not be ended by our vote," British UN Ambassador Emyr Jones Parry said. "But today's decision and the actions that flow from it offer the prospect of a new start for Darfur."
Will Sudan Cooperate?
And U.S. Ambassador Zalmay Khalilzad warned Sudanese President Omar al-Bashir that he must do more than merely accept the peacekeepers.
"Now Sudan faces a choice," he said. "Sudan can choose the path of cooperation or defiance. Just as all eyes are on the [Security] Council to help protect the civilians of Darfur, so too are all eyes on Sudan, and we look to its government to do the right thing and pursue the path to peace."
Chinese Ambassador Wang Guangya spoke up for Sudan, commending what he called its "flexibility" and "vigorous efforts" to reach a compromise.
Persuading China to accept the resolution on peacekeepers reportedly was nearly difficult as obtaining Sudan's acquiescence because of Beijing's close commercial ties with Khartoum. China imports about one-third of all Sudanese oil on the market.
More than 200,000 people have been killed and about 2.5 million have been left homeless in Darfur. This humanitarian crisis grew out of a civil war that began in 2003 when ethnic Africans took arms against what they see as a government -- dominated by ethnic Arabs -- that has treated them as second-class citizens in their own country.
The ethnic Africans have been the victims of Arab militias known as the janjaweed. Many say these groups have been doing the bidding of the Sudanese government, although Khartoum denies it. Whatever the motivation, the Africans who have been driven from their homes live in squalid camps around dry Darfur.
'A Predominantly African Character'
Al-Bashir has resisted efforts by the UN and other international agencies to contain the militias. A year ago, he signed a peace treaty with one of the rebel groups. Meanwhile, the African Union has sent in a force of 7,000 to end the killing. But so far, neither effort has had a meaningful effect.
In accordance with al-Bashir's demands, the UN force will have what's called "a predominantly African character," therefore not resembling other UN peacekeeping units, which usually include troops from many different parts of the world. The force for Sudan will be called UNAMID, or the United Nations-African Union Mission in Darfur.
The peacekeepers will include more than 19,000 soldiers and nearly 6,000 civilian police. But the entire contingent isn't expected to be on the ground in Sudan until sometime next year. And some at the UN even question whether countries expected to contribute to the force will send enough soldiers and police.
A Test Of Will
This is an issue of will, according to Simon Serfaty, who studies international affairs at the Center for Strategic and International Studies, a non-partisan center for policy research in Washington.
Serfaty admits to being of two minds about the UN resolution on Darfur. He tells RFE/RL that he's not very disappointed by the compromises needed to reach consensus in Tuesday's vote, noting that, in his words, "those who want it all get nothing." On the other hand, he describes the resolution as "half-baked."
According to Serfaty, if the leading world powers had the will to end the killing in Darfur, they would be able to act outside the UN, just as the United States and Europe sidestepped the UN and used NATO in the Balkans in the 1990s.
At that time, Serfaty says, the United States and Europe passed that test of will. Obviously, he adds, they haven't passed that test with Darfur.
"If we were to meet that test of will -- that is to say 'act,' because act we must -- then I believe that we have the capabilities needed and the legitimacy needed to do it, if needed, out of the UN framework," Serfaty said. "But if we do not have that will, then I will take the UN resolution, and I will accept whatever limits that resolution imposes on the required actions."
Still, Serfaty says, he remains skeptical that the UN action will be able to end the killing quickly.
An Increasingly Thirsty World
An Increasingly Thirsty World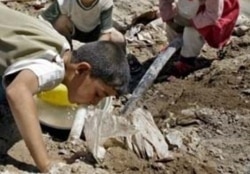 An Iraqi boy drinks from a waste-water reservoir near Baghdad (epa file photo)

A MATTER OF LIFE AND DEATH. Disputes about access to water are increasingly coming to the center of global attention, especially in China, India, and Central Asia. Writing about the 1967 Six Day War in his 2001 memoirs, Israeli Prime Minister Ariel Sharon said that "while border disputes between Syria and ourselves were of great significance, the matter of water diversion was a stark issue of life and death." (more)
RELATED ARTICLES
Tibetan Water Plans Raise Concerns
Environmentalists Say China Misusing Cross-Border Rivers
China's Economic Boom Strains Environment
Nature Waits For Cross-Border Sanctuaries To Catch On
Overused Rivers Struggle To Reach The Sea
UN Water Report Takes A Hard Look At Central Asia
Irrigation, Pollution Threaten Central Asian Lakes


THE COMPLETE STORY: Click on the icon to view a dedicated webpage bringing together all of RFE/RL's coverage of Kazakhstan, Kyrgyzstan, Tajikistan, Turkmenistan, and Uzbekistan.