Melon Day, which pays tribute to the approximately 1,100 different sorts of melons that grow in the country, has been an annual holiday in Turkmenistan since 1994.
Newspapers in Turkmenistan on August 11 carried a message from President Gurbanguly Berdymukhammedov in which he reminded the country that "since ancient times Turkmenistan has been considered the homeland of the best melons in the world."
(Interfax)

Turkmenistan's Presidential Election
Turkmenistan's Presidential Election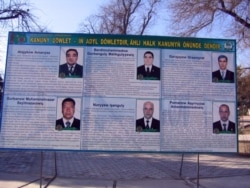 A billboard in Ashgabat with portraits of the candidates in the February 11 election (OSCE)


SIGNS OF CHANGE? Reporters Without Borders analyst Elsa Vidal and RFE/RL Kazakh Service Director Merkhat Sharipzhanov led an RFE/RL briefing in Prague about the significance -- or lack thereof -- of Turkmenistan's first-ever competitive presidential election.
LISTEN
Listen to the entire briefing (about 60 minutes):

Real Audio
Windows Media
RELATED ARTICLES
Could Presidential Vote Open New Chapter?
Sorting Out The Presidential Candidates
Presidential Campaign Reflects Latent Social Tensions
Campaign Opens With Surprising Promises Of Reform
ARCHIVE
RFE/RL's coverage of
Turkmenistan
.