Russian Writer Says Prosecutors Won't File Libel Charges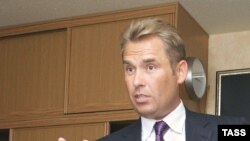 Pavel Astakhov speaking to journalists on August 14 (ITAR-TASS) August 20, 2007 (RFE/RL) -- Russian novelist Pavel Astakhov has said Moscow city prosecutors have decided against pursuing a criminal case against him for his portrayal of police working with organized crime.
The head of the city police's main investigative directorate, Ivan Glukhov, had asked prosecutors to open a case against Astakhov and the publisher of his book, "Raider."
Glukhov argued that "Raider" contained "numerous insulting and libelous deliberations" and harmed the reputation of the Russian police in general.
Astakhov was quoted by Russian news agencies today as saying that prosecutors decided after an inquiry not to file libel or other charges against him.
Prosecutors are not commenting on the case.
Astakhov is a popular television personality and prominent lawyer in Russia. "Raider" is his first novel.
His crime thriller follows a plot centered on mergers and acquisitions among companies. The protagonist, a businessman, bribes officers from the investigative directorate, who raid companies and open criminal cases to his benefit. In the story, a young lawyer confronts the corruption.
The calls for criminal charges over the fictional account were being watched closely by rights activists and writers in Russia, where many observers believe freedom of speech has suffered in recent years.

SUBSCRIBE For news and analysis on Russia by e-mail,
subscribe to "RFE/RL Russia Report."