Moscow city prosecutors have already questioned Pavel Astakhov about his novel, "Raider," and are now deciding whether to open a criminal case.
The head of the city police's main investigative directorate, Ivan Glukhov, initiated the investigation by asking prosecutors to open a criminal case against Astakhov and his publishing company.
According to Glukhov, the novel "contains numerous insulting and libelous deliberations" about the directorate, and defames the reputation of Russian police in general.
In his letter to prosecutors, Glukhov acknowledges that the novel is "literary-fictional," but argues that, because the text refers to a police unit that actually exists, readers are being led to believe that events depicted in the story are true.
'Recognized Problem'
The author's lawyer, Mikhail Burmistrov, strongly disagrees. He tells RFE/RL's Russian Service that the issue of police corruption is nothing new -- and is even openly addressed by high-ranking officials in Russia. Therefore, Burmistrov says, his client's book is simply touching on a recognized problem.
"What's most important from a legal perspective, he does not mention a
single concrete individual. This is really a work of fiction."
"He [Astakhov] is not saying anything new, just highlighting some problems more clearly," Burmistrov says. "And, what's most important from a legal perspective, he does not mention a single concrete individual. This is really a work of fiction. And fictional work is that is created by author's imagination."
"Raider," which can be described as a crime thriller, follows a plot centered on mergers and acquisitions among companies. The protagonist, a businessman, bribes officers from the investigative directorate, who raid companies and open criminal cases to his benefit. But in the story, a young lawyer confronts the corruption.
The possibility that a criminal case could be opened against Astakhov has surprised many. The genre of crime thrillers is very popular in Russia, and the wrongdoings of law-enforcement agencies are often addressed in works of fiction.
Crackdown On Freedom
Some analysts believe that there are deeper motives behind this case -- that it is intended to serve as a warning to authors by holding the threat of prosecution for what they write over their heads.
The author of the hugely popular "Day Watch" and "Night Watch" series and arguably the most popular science-fiction writer in Russia today, Sergei Lukyanenko, is among those who feel this way.
"Of course this worries me," he says. "Because it's easy to cross the line between observing the law, which is an essential part of any civilized country, and abusing the rights of ordinary citizens, abusing freedom of speech, and so on. This is a very difficult thing -- and in the struggle to protect these laws it would be easy to overstep the mark and start to limit a person's right to express himself freely."
To some commentators, the possible case against Astakhov also represents part of an ongoing crackdown on independence within the country's legal system.
Apart from being a writer, Astakhov is a successful lawyer. And at various times he has represented Russia's formerly independent television company, NTV -- now owned by the state-controlled gas monopoly, Gazprom -- and Yukos, against which the government led a politically charged campaign.
Some believe that such activities of an independent lawyer may have angered the authorities.
Prosecutors are expected to decide within a week whether to move forward with charges against Astakhov.
Culture Of Impunity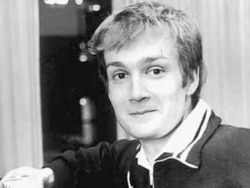 Slain journalist Dmitry Kholodov (ITAR-TASS)
RUSSIA'S SLAIN JOURNALISTS: The International Federation of Journalists has launched an international commission to investigate impunity in the killings of five journalists in Russia whose cases remain unresolved:

Dmitry Kholodov

Kholodov, a reporter with "Moskovsky komsomolets" in the Russian capital, died on October 17, 1994, when a booby-trapped briefcase he had been given by a source exploded in the newspaper's offices. Kholodov was investigating allegations of corruption in the upper echelons of the Russian military, including Pavel Grachev, then the defense minister. Six army officers were charged with involvement in the killing, but were twice acquitted by military courts. The Russian Prosecutor-General's Office launched a new probe in January 2006.

Vladimir Kirsanov

On May 17, 2001, Kirsanov, the founder and editor in chief of the "Kurganskiye vesti" independent newspaper, vanished outside his office. Kirsanov had been reporting on alleged criminal activities by local officials in the Ural city of Kurgan, and had been threatened on numerous occasions. The Federal Security Service, the Interior Ministry, and organized crime units all took place in the investigation of Kirsanov's disappearance, but the case has never been solved.
Eduard Markevich

Markevich, the editor and publisher of "Novy reft," a local newspaper in the town of Reftinskiy, in Sverdlovsk Oblast, was found dead on September 18, 2001. He had been shot in the back. "Novy reft" was often critical of local officials and Markevich, 29, had reported receiving threatening telephone calls. In 1998, two unknown assailants had broken into his apartment and beaten him up in front of his pregnant wife.
Valery Ivanov
Aleksei Sidorov

Ivanov and Sidorov, journalists with the "Tolyattinskoye obozreniye" newspaper in the industrial city of Tolyatti, were both killed over the course of 18 months. On April 29, 2002, 32-year-old Ivanov, the paper's editor in chief and a deputy in the local legislative assembly, was shot eight times in the head at point-blank range. His close friend and editorial successor, 31-year-old Sidorov, was killed on October 9, 2003, after being stabbed in the chest with an ice pick.
"Tolyattinskoye obozreniye" was known for its investigative reports on crime and government corruption. Sidorov was also known to be investigating Ivanov's murder at the time of his death. Journalists believe the deaths of both editors were meant as retaliation for the newspaper's work. A local factory welder was charged with Sidorov's murder, but was acquitted. No one has ever been implicated in Ivanov's murder.