Kyrgyzstan Announces Two New Spying Cases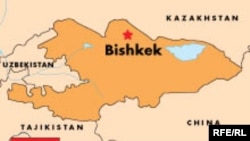 (RFE/RL) August 23, 2007 (RFE/RL) -- A retired officer from Kyrgyzstan's Defense Ministry and an employee of the State Committee for National Security have been detained on suspicion of high treason, RFE/RL's Kyrgyz Service reported.
Defense Ministry spokesman Murat Ashyrbekov reported the detentions today. Ashyrbekov did not give the identities of the two, and he declined to say when they were arrested or which country they were accused of working for.
It is the second high-profile case involving Kyrgyzstan's national security in just over two months.
An employee of the Kyrgyz parliament's press office, Jypargul Arykova, and a Chinese national were arrested on June 19 on suspicion of spying for Chinese intelligence services.
On August 2, a Bishkek city court cited the severity of those charges in rejecting Arykova's bail request.
(with material from agency reports)
RFE/RL Central Asia Report

SUBSCRIBE For regular news and analysis on all five Central Asian countries by e-mail,
subscribe to "RFE/RL Central Asia Report."