Russian Official Says Nationalists Likely Bombed Train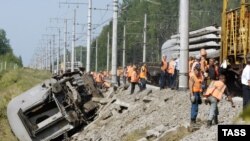 Teh Neva express was derailed in the blast (ITAR-TASS) August 23, 2007 -- A senior Russian prosecutor says radical nationalists were most likely behind an August 13 bombing of a passenger train traveling from Moscow to St. Petersburg.
Interfax reports that First Deputy Prosecutor-General Aleksandr Bastrykin, in an interview to be published in "Rossiisskaya Gazeta" on August 24, says "nationalist youth groups" were most likely behind the bombing, in which several people were injured but none killed.
However, Bastrykin says investigators have not ruled out linking the incident to insurgents from Chechnya or organized crime.
(Reuters)


UPDATED CONSTANTLY: Visit RFE/RL's Russian-language website, featuring news, analysis, features, streaming audio, and more, in Russian, from RFE/RL's Russian Service.
ARCHIVE
RFE/RL's English-language
coverage of Russia
.