Sergei Bagapsh acknowledged that their grievances are at least partly justified, but it remains doubtful whether the de facto president's calls for the government bureaucracy to adopt a more cooperative stance vis-a-vis the independent media will be heeded.
Press Face Many Restrictions
The problems facing the independent print media in Abkhazia were outlined in detail in an editorial published in November 2006 in the independent weekly "Nuzhnaya gazeta."
That paper's editor, Izida Chania, listed spiraling printing costs; the reluctance of state-controlled printing presses to print independent publications; distribution problems; draconian tax laws that are applied only selectively; the absence of a legal framework to safeguard the functioning of a free press; and chronic stonewalling by government officials whom journalists approach for information.
A 115-page report released in June by the U.K.-based nongovernmental organization Article 19 makes the point that privately owned print media in Abkhazia, including "Nuzhnaya gazeta," constitute the sole alternative to either Abkhaz state television or Russian television channels, and often provide information that is not available from any other source. But most newspapers publish only weekly, in limited print runs, and are not available outside large towns.
Chania was one of five journalists who drafted an appeal to Bagapsh on July 27 following a roundtable discussion organized by the Abkhaz Journalists' and Publicists' Guild, media.ge reported on August 8. (Other roundtable participants included three parliament deputies from the opposition Forum of National Unity and the its executive secretary, Astamur Tania, who served as an aide to Bagapsh's predecessor as president, Vladislav Ardzinba.)
That appeal claimed that even though the Abkhaz authorities verbally profess their commitment to defending media freedom, the harassment of journalists -- including police control and constant summonses to the prosecutor's office -- has reached "Soviet-era proportions." They urged the Abkhaz authorities to endorse the open expression of diverging opinions, rather than seek to downplay problems and create the impression that "everything is going smoothly."

Going Right To The Top
An article published in "Nuzhnaya gazeta" on June 12 made the point that citizens frequently go directly to the president in exasperation after their complaints or requests are ignored by lower-level officials. Bagapsh reportedly sets aside Mondays for such meetings, and receives up to 20 people during one day.
At their meeting with Bagapsh on August 15, the same group of journalists raised the most important issues highlighted by Chania nine months earlier, including the lack of a legal framework for the media, tax policy, and access to information. (The widespread social repercussions in an impoverished postconflict society of limited access to information are discussed in detail in the Article 19 study.)
They also listed issues which they argued should become the subject of a broad public debate, including the privatization of large state-owned enterprises; the creation of industrial zones; migration; economic inequality between the republic's various regions; and the expansion of the tourist industry. They urged Bagapsh to intervene personally to overcome the "inertia" of middle-level bureaucrats.
The Article 19 study notes that since his election in early 2005, Bagapsh has sought to promote the more effective exchange of information between government and public. One of his initiatives was the creation earlier this year of a Public Chamber intended to serve as a means of communication between the state and civil society.
Several of the chamber's 35 members were present at Bagapsh's meeting with the editors, and he urged the chamber to work together with independent media outlets to facilitate the latter's access to government officials.
At the same time, he urged journalists to restrict themselves to "constructive" criticism in order to avoid exacerbating what his website termed the "standoff" between the media and the republic's authorities.
The Erosion Of CIS Press Freedom
The Erosion Of CIS Press Freedom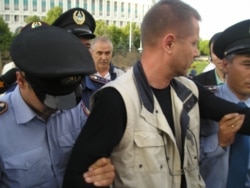 Prominent Kazakh journalist Sergei Duvanov being arrested in Almaty last month (RFE/RL)
FROM BAD TO WORSE. RFE/RL and Freedom House experts held a panel discussion at which they analyzed the erosion of press freedom in many CIS countries. According to Freedom House rankings, in 1994, six of the 12 CIS countries were rated "partly free"; by 2004, 11 of the 12 were rated "not free."
LISTEN
Listen to the entire briefing (about 70 minutes):

Real Audio
Windows Media
SUBSCRIBE
For regular news and analysis on media issues throughout RFE/RL's broadcast area by e-mail,
subscribe to "RFE/RL Media Matters."