Iran's official IRNA news agency reported that U.S. forces detained the delegation, which was in Iraq to sign an electricity contract, on August 28 in a Baghdad hotel.
Reports say there were seven Iranians staying at the hotel, including six members of the delegation.
Shortly before the raid on the hotel, U.S. President George W. Bush said in a speech that he had authorized U.S. military commanders to confront what he called Iran's "murderous activities" in Iraq.
Earlier, Iranian President Mahmud Ahmadinejad said U.S. political influence in Iraq was "collapsing rapidly," and Tehran is ready to help fill any power vacuum.
(AP, Reuters, AFP)
Iraqi Insurgent Media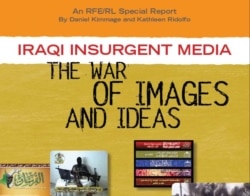 GETTING THE MESSAGE OUT. RFE/RL analysts Daniel Kimmage and Kathleen Ridolfo have produced a book-length study on the media efforts of the insurgency in Iraq and on how global jihadists are exploiting those efforts to spread their destructive message around the world....(more)
DOWNLOAD
(pdf format):
Part One Part Two Part Three Part Four Part Five



THE COMPLETE STORY: RFE/RL's complete coverage of events in Iraq and that country's ongoing transition.