The reports say a third suspect is no longer linked to the case, and that a fourth suspect could not have been involved in the murder because he had been in prison when Politkovskaya was killed in Moscow on October 7, 2006.
Prosecutors on August 27 announced the arrests of 10 people, including several law enforcement officers, in connection with the crime.
The Prosecutor-General's Office today refused to comment on the reports that two suspects have since been released.
A Moscow district military court spokesman said a Federal Security Service (FSB) officer who had been named among the suspects was still being held, but his arrest was not connected to Politkovskaya's killing.
Murad Musayev, a lawyer for one of the suspects, on August 29 told RFE/RL's North Caucasus Service that the case is "far from solved," and accused prosecutors of scare-mongering.
A rally in memory of Politkovskaya is scheduled to be held in the center of Moscow today, marking what would have been Politkovskaya's 49th birthday.
(AP, RIA Novosti, BBC in Russian)

Reading Politkovskaya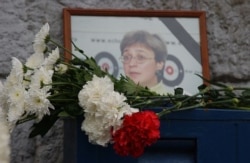 A memorial for Anna Politkovskaya in Moscow shortly after her murder (epa)


'A SMALL CORNER OF HELL': RFE/RL's Russian Service invited a number of prominent Russians to read passages from Anna Politkovskaya's second book on the war in the North Caucausus, "A Small Corner Of Hell: Dispatches From Chechnya" (see transcripts in Russian).The excerpts below are in Russian and are each about five minutes long.
LISTEN
Nikita Belykh, head of the Union of Rightist Forces:
Real Audio Windows Media
Sergei Buntman, political commentator with Ekho Moskvy:
Real Audio Windows Media
Andrei Babitsky, RFE/RL Russian Service correspondent:
Real Audio Windows Media
Vyacheslav Izmailov, "Novaya gazeta" journalist:
Real Audio Windows Media
Marianna Maksimovskaya, host of REN-TV's "Nedelya":
Real Audio Windows Media
Eduard Limonov, head of the National Bolshevik Party:
Real Audio Windows Media
Svetlana Sorokina, television journalist:
Real Audio Windows Media
CHRONOLOGY
The
fighting in Chechnya
has raged, with short breaks, since 1994. It has brought misery, death, and destruction to the North Caucasus republic and to Russia as a whole. View an
annotated timeline
of the conflict
.

ARCHIVE
RFE/RL's complete coverage of Russia's war-torn Republic of Chechnya.