The week before school starts is always a busy one for Hamest Sarkisyan. For the last few days, she has been washing and ironing her son's clothes, cleaning out his rucksack, and buying pens and pencils for his first day back at school.
But this year, she says, she is also worried about whether there is enough security at her son's school.
"I'm anxious that something unpleasant might happen because the election [campaign] is starting, and after what happened at Beslan -- I just don't know," one mother said.
"I'm anxious that something unpleasant might happen because the election [campaign] is starting, and after what happened at Beslan -- I just don't know," she said. "Every mother worries about taking her child back to school on September 1. September 1 used to be a joyous occasion, but now we are afraid to take our children to school. There are police officers there standing guard, but all the same, you know, after those events, you are afraid."
Horror In Beslan
Three years ago, Chechen separatists took more than 1,000 parents, children, and teachers hostage on the first day of school in Beslan, North Ossetia. The siege ended three days later, when Russian special forces stormed the building. More than 330 people died in the siege, the majority of them children.
Many Russians say they feel a sense of unease in the country, with parliamentary elections to be held in December and a presidential vote next spring. Earlier this month, a bomb exploded on a train traveling between Moscow and St Petersburg, Russia's busiest rail line. Some officials suggested the bombing was linked to extremist groups trying to destabilize the country in the run-up to the elections.
Tatyana Stankevich is the deputy headmistress at School No. 175 in central Moscow. She says the school takes security extremely seriously.
"We have around-the-clock security as a matter of course," Stankevich said. "We have security screens. We monitor the entrance to the school -- the rest of the school is surrounded by a perimeter fence -- and it has an automatic gate, so that you can see who is coming into the school. We have a videophone system on the gate. And in this way we can monitor who visits the school. These measures were brought in after Beslan. They are security procedures to protect the children, since we are located in the center of the city."
City Day Security Measures
In Moscow, September 1 coincides with City Day, and this year the Russian capital is celebrating its 860th birthday. In a move that has been criticized by human-rights groups, city authorities have given police permission to clear illegal immigrants off the streets of the capital and deport them to their home countries. Most have come from former Soviet republics in Central Asia and the South Caucasus in search of work.
But for Hamest Sarkisyan, removing illegal immigrants from the streets is unlikely to make the capital a safer place. Sarkisyan is Armenian by birth, but she has Russian citizenship and has lived in Moscow for 25 years.
"I don't think these illegal migrants are any more dangerous than other Muscovites who might be plotting some sort of terrorist act," Sarkisyan said. "In fact, for the most part these people are workers. They don't pose any threat."
A Scarred Tradition
Traditionally in Russia, the first day of school is not a working day. The children put on concerts before announcing the 'first bell,' when a student from the final year carries a child from the first year around the school on his shoulders. The younger child rings a bell to usher in the new academic year.
At School 175, where in the past members of the Politburo, including Soviet dictator Josef Stalin, sent their children, Stankevich says the most important thing for her is that the children enjoy school.
"We have a rather interesting school," she says. "We have a lot going on throughout the year. And I'd like us not just to remain at the same level, but to try to improve things so that life here is interesting not just in lessons, but also in the children's development and their activities. So that children can find out what they are able to do and learn new things, as well as simply studying and getting an education."
The first day of studies will be Monday, September 3.
Coping With The Horror Of Beslan
Coping With The Horror Of Beslan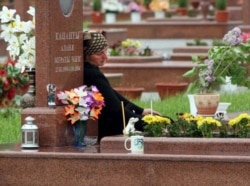 Alla Katsanty reflects on May 17, 2006, at the grave of her daughter, who was killed during the Beslan hostage taking (epa)

SURVIVING THE HORROR: More than 330 people died in the Beslan tragedy, more than half of them children. Before the bloody end of the standoff, victims endured three days of terror with almost no food, water, or medical attention. In the years since, victims, locals, Russia, and the world have all struggled to make sense of one of the most horrific events of modern times.

A video presentation on a UNESCO project to help survivors cope:
Real Player,
Windows Media
.
RELATED ARTICLES
Beslan, Russia, Pay Homage To Victims
Beslan Youth Use Photographs To Tell Their Stories
Beslan Play Rocks Moscow Theaters
An archive of RFE/RL's coverage of Beslan and its aftermath.