Oksana Chelysheva, director of the Tolerance Support Foundation, said police confiscated the computers purportedly for having unlicensed software installed.
Human Rights Watch said the seizure was "part of a Kremlin campaign against civil society."
The Tolerance Support Foundation was formed by members of the Russian-Chechen Friendship Society, which worked to fight abuses in Chechnya and was closed down in 2006 under a law on extremism.
(Reuters)
Forgotten Chechnya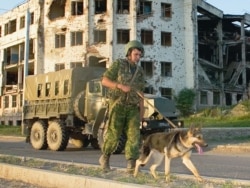 A Russian sapper searches a Grozny street for improvised explosive devices in June 2006 (TASS)
THE CRYING SUN: RFE/RL and the American Committee for Peace in the Caucasus recently hosted a screening of the film "The Crying Sun: The Impact Of War In The Mountains Of Chechnya." The filmmaker and activists discussed the making of the film and their work in Chechnya at the briefing.
LISTEN
Listen to the entire briefing (about 70 minutes):

Real Audio
Windows Media
RELATED ARTICLES
Chechen President Chooses A Cabinet Of Close Friends
Rights Activist Discusses Difficulties Of Working In Chechnya
Russian Ministry Admits Chechen Resistance Still Poses 'Serious Threat'
Chechnya Cell-Phone Videos Reveal Abuses


RFE/RL's complete coverage of Russia's war-torn Republic of Chechnya.
CHRONOLOGY
An annotated timeline of the Chechnya conflict.