Diplomats from the European Union, United States, and Russia met separately with both sides but reported no progress in ending the stalemate between Kosovo's ethnic Albanian leadership, which demands full independence, and Serbia, which insists on keeping Kosovo.
The deadlock raises the likelihood of a showdown after December 10, set as the final day for talks called by UN Secretary General Ban Ki-Moon. The next round is scheduled for September 7.
Earlier today, Kosovo's Prime Minister Agim Ceku said the province would declare independence unilaterally if current negotiations on its status do not "open a way for us."
Before the talks, Serbia's minister for Kosovar affairs, Slobodan Samardzic, said his delegation was going to present a plan that would give Kosovo "essential autonomy," but not independence.
A previous year-long round of talks failed after Russia threatened to block a UN plan that offered Kosovo "internationally supervised independence."
(with material from agency reports)
Final Status For Kosovo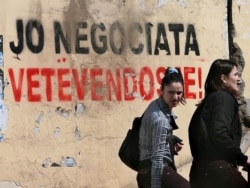 Pro-independence graffiti in Prishtina (epa)

FINALLY STATUS? Sabine Freizer, director of the Crisis Group's Europe Program, told an RFE/RL briefing that deep divisions in the UN Security Council make it uncertain what form Kosovo's future status might take.
LISTEN
Listen to the entire briefing (about 70 minutes):

Real Audio
Windows Media
ARCHIVE
RFE/RL's coverage of
Kosovo
. The website of
RFE/RL's South Slavic and Albanian Language Service
.