Russian Foreign Minister Sergei Lavrov made the remark today at a news briefing in Moscow.
He said the role of the troika of international mediators -- Russia, the European Union, and the United States -- is not to "force a particular solution."
A potential partition of Kosovo would likely involve a split of the province's northern part, where most of the ethnic-Serbian minority lives, from the ethnic-Albanian-dominated rest of the separatist province.
Both Serbia and its ally Russia have opposed a Western-backed UN plan to grant Kosovo independence.
On August 30, representatives of Kosovo and Serbia again failed to make a breakthrough in talks overseen by international mediators.
The same day, Kosovo's Prime Minister Agim Ceku said the province would declare independence unilaterally if current negotiations on its status do not "open a way for us."
(Reuters)

Final Status For Kosovo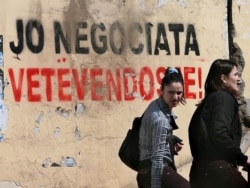 Pro-independence graffiti in Prishtina (epa)

FINALLY STATUS? Sabine Freizer, director of the Crisis Group's Europe Program, told an RFE/RL briefing that deep divisions in the UN Security Council make it uncertain what form Kosovo's future status might take.
LISTEN
Listen to the entire briefing (about 70 minutes):

Real Audio
Windows Media
ARCHIVE
RFE/RL's coverage of
Kosovo
. The website of
RFE/RL's South Slavic and Albanian Language Service
.