El-Baradei Says Iran Agreement Could Be 'Last Chance'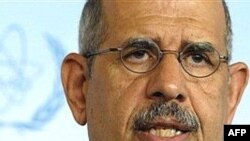 Muhammad el-Baradei (AFP) September 1, 2007 -- Muhammad el-Baradei, the head of the International Atomic Energy Agency (IAEA), says he is hopeful that progress can be achieved in the standoff over Iran's nuclear program.
El-Baradei told the German news magazine "Der Spiegel" that a recent agreement between the IAEA and Tehran to map out Iran's nuclear activities offers a "great chance" to resolve the crisis.
But he warned Tehran that this could also be its "last chance," saying Iran only has until November or December to prove its good intentions.
(AP)