During his five-day visit, Council of Europe Commissioner for Human Rights Thomas Hammarberg is expected to assess Azerbaijan's compliance with human-rights obligations, the ability of the country's media and NGOs to operate freely, and the treatment of women and internally displaced persons.
"The government has adopted a national plan on implementation of human rights, in December last year," Hammarberg told RFE/RL's Azerbaijani Service ahead of today's talks. "And one of the discussions we will have is to what extent it has been possible to implement this plan in reality."
Hammarberg said he was meeting with representatives of UNICEF, the Organization for Security and Cooperation in Europe, and NGOs to listen to "their views and descriptions of the situation" before he sits down with government representatives.
Human-rights activists reportedly told a briefing today after speaking with Hammarberg that he was primarily interested in hearing about issues related to freedom of expression and the conditions of detainees. The commissioner was presented with a report on torture in Azerbaijan that noted the continued detention of seven journalists.
Hammarberg told RFE/RL that he intended to address the situation.
"Clearly, the situation of the media, including journalists, will come up on the agenda," he said. "Of course, all other recommendations previously given by the Council of Europe will be discussed."
However, Hammarberg said that the Council of Europe had no plans to impose sanctions against Azerbaijan for any shortcomings that are identified, saying problems would be solved by applying standards approved by members of the body.
Human Rights In Azerbaijan
Human Rights In Azerbaijan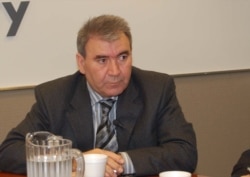 Azerbaijani parliamentarian and historian Jamil Hasanli speaking at RFE/RL on November 29 (RFE/RL)

THE CURSE OF OIL. On November 29, RFE/RL's Washington office hosted a briefing on democratic development in Azerbaijan. The briefing featured liberal opposition lawmaker Jamil Hasanli and former political prisoner and activist Murad Sadaddinov. The two men discussed the international commitments Azerbaijan has made in the area of human rights in order to secure investment in its energy sector and offer advice as to how the international community should deal with Baku.
LISTEN
Listen to the entire briefing (about 90 minutes):

Real Audio
Windows Media
RELATED ARTICLES
Authorities Intensify Pressure On Independent Media
Azerbaijan: Coping With The Oil Windfall
EU Taking Note Of Baku's Strength
Azeri Journalist's Prison Sentence Denounced As Political
ARCHIVE
RFE/RL's English-language coverage of
Azerbaijan
.
SUBSCRIBE
For a regular review of civil-society developments throughout RFE/RL's broadcast region,
subscribe to "RFE/RL (Un)Civil Societies."