Russian Bombers On Arctic Mission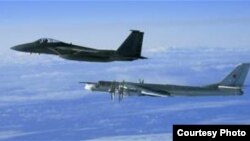 The Soviet-era practice of sending strategic bombers on long-range flights had stopped in 1992 (file) (Courtesy Photo) September 3, 2007 -- Russian long-range bomber planes have begun a two-day exercise over the Arctic.
The Russian Air Force said today the 12 Tu-95 "Bear" bombers will carry out maneuvers that will include the launching of cruise missiles.
The exercises follow last month's announcement by President Vladimir Putin that Russian bombers would resume long-range training missions over the Atlantic, Pacific, and Arctic oceans.
(AFP, AP)


UPDATED CONSTANTLY: Visit RFE/RL's Russian-language website, featuring news, analysis, features, streaming audio, and more, in Russian, from RFE/RL's Russian Service.
ARCHIVE
RFE/RL's English-language
coverage of Russia
.