At the ceremony marking 16 years since Uzbekistan became independent, Karimov lauded the accomplishments the country achieved during "this very short time."
But most of Karimov's speech was devoted to the future, a future that -- according to the Uzbek Constitution -- should see citizen Karimov resting in retirement while the second president in Uzbekistan's history runs the country.
But Karimov did not sound like a man preparing to retire in a few months.
"Important and pressing tasks stand before us that demand the effective use of the potential we have developed in the recent [postindependence] period, the mobilization of all the forces we possess for the realization of our good intentions and efforts," he said.
"Speaking about this, I believe it is necessary to draw attention to the following: first, critically assessing our successes and progress -- and not allowing ourselves to fall into euphoria -- we need to set for ourselves lofty goals and long-term aims, foremost among these tasks that are at the center of our fixed attention has been and will remain increasing the standard of living and well-being of the people," Karimov added.
Karimov Staying On?
While that portion of the speech could be viewed as exhorting the population and future leadership to continue reaching for new heights, the next part of Karimov's speech was more specific and could be interpreted as indicating he plans to remain in office beyond the scheduled December presidential election.
"The priority for [improving living standards] should be providing for the dynamic and stable growth of the economy, the implementation of strong social policies, supporting young families, increasing wages, services, pensions, social benefits, and stipends by two to 2 1/2 times over the course of the next three years," he said.
So President Karimov was looking at least three years into the future.
An Election Too Far
Technically, Karimov's current term as president ended in January. Karimov is in his second presidential term which -- according to the constitution -- should be his last.
He has already extended his term in office through referendums held in 1995 and 2002. The loophole that Uzbek officials found that allowed Karimov to stay on after January this year was a line in the constitution setting the third Sunday of December (December 23 this year) as the date of presidential elections.
But there has been no evidence of any preparations for such an important election and again -- according to the constitution -- an announcement of a presidential election must be made three months before the election day, so by September 23.
So far this year, no one in Uzbekistan has said he or she wants to run in the election that should be held in December.
Later in his September 1 speech, Karimov also included a topic that has recently helped several politicians appeal to the people: the topic of security and, by implication, the need to preserve the system that has so far helped protect the country.
"Thirdly, the current complicated and alarming era demands of us not to forget about the existence of various threats to humanity; to work to strengthen peace, harmony, and stability in the country," Karimov said. "Not allowing our sharp attention and vigilance to falter, and keeping our gaze toward guarding our frontiers, capably resisting any dangers, and increasing our power and strength."
Karimov did not say whether he would seek to stay in office, or specifically mention the election in any way during his speech on independence day. The last presidential election in Uzbekistan was held on January 9, 2000, and the announcement for that election was made on August 19, 1999.
(Alisher Sidikov of RFE/RL's Uzbek Service contributed to this report.)
Building Democracy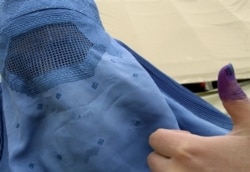 An Afghan woman votes in Kandahar in October 2004 (AFP)
ROWING AGAINST THE TIDE:
National Endowment for Democracy President Carl Gershman and Hudson Institute Senior Fellow John O'Sullivan led an RFE/RL briefing about U.S. efforts to promote democracy around the world, and especially in the Middle East.
LISTEN
Listen to the entire briefing (about 55 minutes):

Real Audio
Windows Media
RELATED ARTICLES
U.S. Reports On Democracy-Promotion Efforts
Is Bush Abandoning Democracy Building In Iraq?
Karen Hughes Urges Dialogue Based On 'Common Values'
SUBSCRIBE
For a regular review of civil-society developments throughout RFE/RL's broadcast region,
subscribe to "RFE/RL (Un)Civil Societies."