The vote took place in the southern Russian city of Samara on September 15, where the opposition group was holding a regional conference.
According to RFE/RL's Russian Service, Zubkov received 25 votes to emerge the winner.
However, according to RFE/RL, only around 50 people attended the Samara event and as many as 25 of them were from the pro-Kremlin New People movement.
The presidium decided not to count the votes for Zubkov and awarded the victory to former Prime Minister Mikhail Kasyanov.
Other Russia also held a regional conference in Kaliningrad on September 15.
Other Russia is not an officially registered party and cannot participate in the December 2 parliamentary elections. The ongoing regional events are being held to select the movement's own "people's duma," and elect a candidate for the March 2008 presidential election.
Opposition Under Pressure
Members of Other Russia have repeatedly reported that they have been harassed by the authorities. In the southern Russian city of Orenburg, Other Russia activists told RFE/RL they are alarmed by the September 13 arrest of fellow activist Lyudmila Kharlamova.
Kharlamova is being charged with possession of narcotics, in a development that Other Russia leaders say is intended to intimidate the opposition.
A local court on September 15 denied Kharlamova's request for bail and refused to consider character references submitted by her relatives, employer, and Other Russia. Other Russia intends to ask local Duma deputies to file an official inquiry into the arrest.
Meanwhile, the opposition liberal party Yabloko is preparing for the Duma elections. On September 16, the party confirmed its candidate list at its national pre-election congress on the outskirts of Moscow.
Grigory Yavlinsky, the party leader, will head the list, followed by human rights activist and former Duma deputy Sergei Kovalyov, and deputy party leader Sergei Ivanenko.
In the congress's opening speech, Yavlinsky criticized the current authorities for creating a "semi-feudal" state system, and said that Yabloko must stand for the rule of law and the protection of the rights of individuals.
Yavlinsky said the state-controlled media avoid discussing many of the more serious problems the country faces, which he said included growing corruption, instability in the North Caucasus, and deteriorating relations with neighboring states.
According to recent opinion polls, Yabloko is not likely to pass the required 7 percent barrier in order to gain seats in the Duma.

Russia Beyond 2008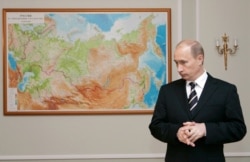 President Putin is mulling his political future (epa)

THE 2008 QUESTION: President Vladimir Putin's second term of office ends in the spring of 2008. Since the Russian Constitution bars him from seeking a third consecutive term, this event threatens to present a crisis in a country that has a history of managed power transitions. Already, Russian politics are dominated by the ominous 2008 question.
RFE/RL's Washington office hosted a briefing to discuss the prospects of Putin seeking a third term. The featured speakers were RFE/RL Communications Director Don Jensen and political scientist Peter Reddaway of George Washington University.
LISTEN
Listen to Don Jensen's presentation (about 16 minutes):
Real Audio
Windows Media
LISTEN
Listen to Peter Reddaway's presentation (about 35 minutes):
Real Audio
Windows Media
RELATED ARTICLES
Will Putin Pursue Third Term, Or Will It Pursue Him?
Could Yakunin Be 'First-Called' As Putin's Successor?
Putin Again Says He Won't Run For Third Term But Will 'Work' For Russia
Interview: Former Premier Kasyanov Warns Of Political Crisis
Former Premier Kasyanov Announces Run For President
ARCHIVE
RFE/RL's English-language
coverage of Russia
.

SUBSCRIBE
For news and analysis on Russia by e-mail,
subscribe to "RFE/RL Russia Report."