Fifty-year-old Tarshkhoeva was born in Ingushetia and most of her family live in Ingushetia's main city, Nazran, today. She herself lived in Chechnya for many years, before moving to Moscow in 2000. She now works for a human rights agency, giving legal advice to migrants from the North Caucasus now living in the Russian capital.
"[When I lived in Chechnya just before the war] there were the same provocations, the same explosions, the same shots fired. And then they brought in the army to restore order, supposedly. And what did that restoring of order result in? Well, we all know the answer to that. It's still not finished today," Tarshkhoeva says.
Tarshkhoeva, like many others in Ingushetia, fears that the situation in Ingushetia will resemble Chechnya's descent into violence in the 1990s.
Over the past three months, Ingushetia has been the scene of almost daily violence. Civilians have been killed in drive-by shootings. Local police and security forces have been targeted by militants:
"I think [the situation] is only going to get worse. They'll bring in troops for the restoration of order according to the constitution," she says. "And there will be the same sort of cleansing that we saw in Chechnya; the same provocations, the same disappearances of ordinary people. That's my opinion -- that the scenario will be the same as that in Chechnya in 1994, 1995."
Refugees From Chechnya
Chechen and Russian forces began fighting in December 1994. Moscow said it was sending troops to the troubled republic to restore constitutional order and to end lawlessness.
Thousands of Chechen refugees fled fighting to neighboring Ingushetia in the 1990s.
The Ingush are predominantly Muslim and ethnically and linguistically extremely close to the Chechens.
In recent days, hundreds of people have protested in Ingushetia's main city of Nazran to protest the growing violence.
"Yesterday I spoke to my mother on the telephone. My mother is 80 years old, she can't go out. She can't go to these protests. My brother is an invalid, he can't walk. He also can't leave the house. He was injured in Ingushetia when it was under fire in 1999. But they're not afraid. They've already grown accustomed to the situation," Tarshkhoeva says.
War With Ossetia
Since the breakup of the Soviet Union, people in Ingushetia have become accustomed to violence. There was a brief war in 1991 between military units from Ingushetia and the neighboring republic of North Ossetia.
Many Ingush fled North Ossetia's Prigorodny Raion and have since launched a campaign to return to their former homes.
Tarshkhoeva says that many Ingushetians feel they have little choice but to stay.
"It's just they have nowhere to go, they have no choice but to stay there. If they could leave, they would already have left," Tarshkhoeva says. "Where can they go? Everything had only just settled down and now it's kicking off again. Of course they are against what is happening -- who needs that?"
And it is the memories of the two successive wars in Chechnya that has Ingushetians, like Tarshkhoeva, deeply worried.
"It all started the same way [in Chechnya.] I was old enough then [to know what was going on] and I saw it all with my own eyes. That's what I expect -- my prognosis is pessimistic, as I've told you. This can't end well."
Fatal Violence In Ingushetia
Fatal Violence In Ingushetia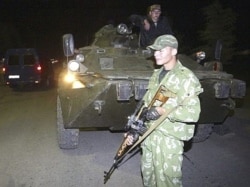 Russian Interior Ministry troops patrol a road to Nazran (AFP)
June 17 -- A militant suspected of opening fire at an Interior Ministry mobile squad in May is killed in the Ingush village of Surkhakhi.
June 29 -- A man is killed by a bomb planted near a health center in Karabulak.
July 4 -- The deputy head of Nazran's Pliyevo municipal administration, Khavazh Daurbekov, is shot and killed by unidentified gunmen.
July 17 -- The residential area and the house where Ingush President Murat Zyazikov and his relatives live comes under grenade fire.
July 16 -- Mathematics teacher Lyudmila Teryokhina and her two adult children are found shot dead in their house in the village of Ordzhonikidzevskaya.
July 18 -- Seven people are wounded in an explosion at a cemetery in the community of Ordzhonikidzevskaya. The incident occurs during the funeral of teacher Lyudmila Teryokhina and her two adult children, who were murdered July 16.
July 21 -- Unidentified gunmen kill Vakha Vedzizhev, the chief specialist with the Ingush Interethnic and Public Relations Ministry at Vedzizhev in Karabulak.
July 28 -- One serviceman is killed after the building housing the Ingush department of the Russian Federal Security Service (FSB) in Magas comes under fire.
August 1 -- An Ingush man is killed after he fires at police. An antitank grenade launcher, a submachine gun, and a rifle-mounted grenade launcher are found in the man's car.
August 23 -- One serviceman is killed when an armored personnel carrier hits a mine outside the village of Sur-Khaki in Nazran district.
August 24 -- Unidentified attackers kill two Daghestani sheep herders.
August 29 -- An armored vehicle runs over two cars in Nazran, killing three people. One border guard is killed and another wounded after their vehicle comes under fire in Nazran.
August 31 -- The husband and two sons of a female teacher are killed in Karabulak. Four police officers are killed when an UAZ vehicle blows up in Nazran.
September 2 -- A VAZ-2110 car and an armored vehicle of the Ingush interior forces collides on the Kavkaz federal highway in Ingushetia, killing two local residents. A local resident is killed in a shooting involving Interior Ministry soldiers in Karabulak.
September 7 -- Natalya Muradova, the chief physician of a blood transfusion center in Nazran, is shot dead by unidentified attackers.
September 8 -- A Russian Interior Ministry base in Malgobek comes under fire, killing one Interior Ministry serviceman. Two militants are killed in an ensuing chase.
September 11 -- Three members of a Roma family are shot dead in the village of Ordzhonikidzevskaya in the Sunzha district.
September 17 -- Unidentified attackers shoot and kill a Federal Security Service (FSB) officer in Ingushetia.
September 20 -- Two servicemen are killed in an armed attack in Nazran.