Iranian Workers Protest For Third Day Over Unpaid Wages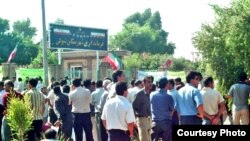 The protesters are calling for better working conditions (Courtesy Photo) October 1, 2007 (RFE/RL) -- Hundreds of Iranian factory workers have protested for a third day in the western city of Shush demanding that they receive unpaid wages.
The workers at the Neyshekar Haftapeh factory, which produces sugar, say they haven't been paid for more than two months. They are also calling for better working conditions.
They were watched by security forces who reportedly videotaped the protest.
Workers chanted slogans against officials, saying that "a decent life" was their "absolute right," Radio Farda reported.
Reports say Shush Governor Mohammad Hassan Taravar has threatened the workers and said that their protest will be met with force. Today four who were detained a day earlier were released.
Some of the leaders of the workers told Radio Farda that they are hiding in fear of being arrested.
Labor protests have increased in Iran in recent months due to a poor economy and the rising price of basic goods.
The government has reacted by arresting a number of workers and sentencing them to jail and whippings.
The head of the Tehran bus drivers' union, Mansur Osanlu, was arrested and jailed on July 10, though he has not been officially charged with any crimes. Ibrahim Madadi, the deputy head of the bus drivers' union, was arrested a month later with six other activists when they went to visit Osanlu's family.

SUBSCRIBE For regular news and analysis on Iran by e-mail,
subscribe to "RFE/RL Iran Report."