Today, Estemirova will have the bittersweet honor of being presented with an award named after her colleague, who was slain in Moscow one year ago, on October 7, 2006. The award and a cash prize is to be presented every year by the nongovernmental organization RAW in WAR (Reach All Women In War) to a female human-rights defender whose work in a conflict embodies that of Politkovskaya's in Chechnya.
Estemirova works for the Russian human-rights watchdog Memorial in Chechnya. She is a native of Grozny, the capital of the war-torn Chechen Republic in which Politkovskaya tirelessly worked to highlight human-rights abuses. Estemirova told RFE/RL's North Caucasus Service by telephone today that while the problems in Chechnya might not always be in the public eye, that does not mean they have gone away.
"We have a lot of problems right now, most of all with people who have found themselves in very difficult situations," Estemirova says. "In Chechnya, there is a big problem with fabricated criminal cases and many young Chechen men are in prison in Russia under difficult conditions. Can you imagine, since 2000 the authorities have been stirring things up so anybody with power thinks they can just beat Chechens. Now there is a situation where many of them are imprisoned for nothing, for crimes that were committed by others, crimes that they had no relation to. Now these cases need to be reexamined. This is work that needs to be done by defense attorneys, and this work needs to be paid for. This is what I want to spend this prize on."
One Outstanding Goal
Estemirova, who will be presented with her award by Irish Nobel Peace laureate Mairead Corrigan-Maguire during a ceremony today in London, says she has one outstanding goal -- to solve at least one of the numerous missing-persons cases in Chechnya.
"As far as human rights go, it is worse because, first of all, nothing has been done to investigate the crimes that have been committed in Chechnya since 2000. And they have still done nothing to investigate these." -- Natalya Estemirova
"We have cases where the relatives themselves have conducted investigations about where their son, or brother, or husband is. Who is for this? They have a lot of information, even names, but for some reason the prosecutor doesn't do anything about it," Estemirova says. "These are investigations that only a professional, like an attorney, can carry out and make prosecutors answer according to the law. It would be good to get at least one case heard in court, in Chechnya, not in Russia."
She says that nothing is done in Russia to address the many cases of human-rights abuses documented by Memorial in Chechnya. Instead, victims and activists have to turn to the European Court of Human Rights in Strasbourg.
"Changes have happened, changes for the worse," she says. "As far as human rights go, it is worse because, first of all, nothing has been done to investigate the crimes that have been committed in Chechnya since 2000. And they have still done nothing to investigate these. We are mainly working in Strasbourg. It is there where these Chechen cases are being heard. It is there where the criminals and the victims of these criminals are being named and where it is being demanded that these cases be investigated in Russia."
To Preserve Politkovskaya's Work
RAW in WAR (Reach All Women In War) is a new, international NGO that supports female human-rights defenders and female victims of conflict throughout the world. Mariana Katzarova, a journalist who worked in the war zones of Bosnia, Kosovo, and Chechnya, founded RAW in WAR.
"We have just established this prize in the name of Anna Politkovskaya. It will be awarded every year on or around October 7, the day Anna was killed. It will be awarded to women journalists and human-rights activists who are working in different war zones and hot spots in the world," Katzarova tells RFE/RL. "We have decided to establish this prize in order to preserve the work of Anna Politkovskaya, to help and support women who are human-rights activists and journalists who, like Anna, tried to assist the victims in those hot spots despite the fact that they risked their lives doing this."
The recipient of the Anna Politkovskaya Award is decided by a committee of nearly 100 influential human-rights advocates from throughout the world, including former Czech President Vaclav Havel, Archbishop Desmond Tutu, Yelena Bonner, Lyudmila Alekseyeva, and Gloria Steinem.
Politkovskaya Investigation
Politkovskaya Investigation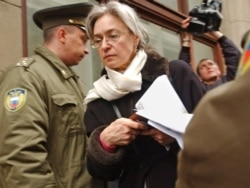 Journalist Anna Politkovskaya was murdered in October 2006
In a Kremlin meeting with President Vladimir Putin on August 27, Prosecutor-General Yury Chaika announced that 10 people -- including a Chechen crime boss, a Federal Security Service officer, a police major, and three former police officers -- had been arrested in connection with the Polikovskaya assassination.

Chaika said that the assassination was ordered by people living outside of Russia who sought to discredit President Putin -- an apparent reference to exiled tycoon Boris Berezovsky, who is living in London. He also said those arrested were involved in other high-profile killings, including last year's assassination of deputy Central Bank chief Andrei Kozlov and that of U.S. journalist Paul Klebnikov in 2004.

Journalists at "Novaya gazeta," where Politkovskaya worked, meanwhile, had been conducting their own investigation into her slaying. The journalists said Chaika's conclusions about who carried out the assassination was consistent with their findings. But they disagreed with his allegation that foreign-based individuals ordered the killing -- and accused Chaika of politicizing the investigation.

Days after Chaika's announcement, Russian media reported that two of the suspects had been released, that another suspect in custody was not connected to the case, and a fourth could not have been involved with Politkovskaya's October 7, 2006 assassination because he was in prison at the time.

The reports came after a tabloid newspaper published the suspects' names, sparking claims that the investigation was tarnished.

Subsequent press reports fueled rumors that Pyotr Garibyan, the chief investigator in the case who had won the trust of Politkovskaya's colleagues and family, had been removed from the case. The Prosecutor-General's Office denied the reports, saying new investigators had been added to the existing team due to the large volume of work.

"Novaya gazeta" editor Dmitry Muratov has alleged that security officials were interfering in the investigator's work and trying to disrupt the case.