Burayeva's comments substantiate a report in today's "Komsomolskaya pravda," which quoted unnamed law-enforcement officials as saying Burayev, the former head of Chechnya's Achkhoi-Martan Raion, was arrested in Moscow on September 13.
Moscow's Basmanny Raion Court sanctioned the arrest the following day, on suspicion of Burayev's suspected involvement in the crime. Details of the arrest could not be independently confirmed.
Sergei Sokolov, the deputy editor of "Novaya gazeta," where Politkovskaya worked at the time of her death, told RFE/RL's Russian Service the media should not play a role in spreading information about possible suspects.
"It's not journalists, but the court, that has to decide if the investigation is on the right track," he said. "Shamil Burayev has been under suspicion for a long time. We've had those suspicions ourselves. I think [the arrest] is a continuation of this strange game, where the investigation is in fact powerless because its secrecy is being violated immediately."
Likely Leak?
Sokolov also said the information was the likely result of a leak from law-enforcement organs, and that the appearance of press reports like the one in "Komsomolskaya pravda" might hamper the investigation.
"Any information that is being leaked to the media creates the opportunity for other suspects to avoid being detained," he said. "What we have here is a PR campaign aimed at hindering the investigation. Journalists have become hostage to people who take advantage of them."
According to the "Komsomolskaya pravda" report, Burayev's name became known to police following the investigation of a former security officer who was one of 10 suspects initially detained in connection with the Politkovskaya killing.
The newspaper said Federal Security Service (FSB) officer Pavel Ryaguzov told investigators he had allegedly passed Politkovskaya's address to Burayev.
Russian Prosecutor-General Yury Chaika has alleged that Politkovskaya's killing was organized by a Chechen criminal group in Moscow that specialized in contract killings.
Politkovskaya's work documenting atrocities against civilians in Chechnya had angered both the Kremlin and Chechnya's pro-Moscow president, Ramzan Kadyrov.

Politkovskaya Investigation
Politkovskaya Investigation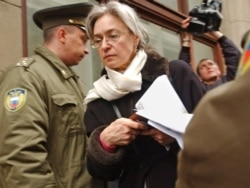 Journalist Anna Politkovskaya was murdered in October 2006
In a Kremlin meeting with President Vladimir Putin on August 27, Prosecutor-General Yury Chaika announced that 10 people -- including a Chechen crime boss, a Federal Security Service officer, a police major, and three former police officers -- had been arrested in connection with the Polikovskaya assassination.

Chaika said that the assassination was ordered by people living outside of Russia who sought to discredit President Putin -- an apparent reference to exiled tycoon Boris Berezovsky, who is living in London. He also said those arrested were involved in other high-profile killings, including last year's assassination of deputy Central Bank chief Andrei Kozlov and that of U.S. journalist Paul Klebnikov in 2004.

Journalists at "Novaya gazeta," where Politkovskaya worked, meanwhile, had been conducting their own investigation into her slaying. The journalists said Chaika's conclusions about who carried out the assassination was consistent with their findings. But they disagreed with his allegation that foreign-based individuals ordered the killing -- and accused Chaika of politicizing the investigation.

Days after Chaika's announcement, Russian media reported that two of the suspects had been released, that another suspect in custody was not connected to the case, and a fourth could not have been involved with Politkovskaya's October 7, 2006 assassination because he was in prison at the time.

The reports came after a tabloid newspaper published the suspects' names, sparking claims that the investigation was tarnished.

Subsequent press reports fueled rumors that Pyotr Garibyan, the chief investigator in the case who had won the trust of Politkovskaya's colleagues and family, had been removed from the case. The Prosecutor-General's Office denied the reports, saying new investigators had been added to the existing team due to the large volume of work.

"Novaya gazeta" editor Dmitry Muratov has alleged that security officials were interfering in the investigator's work and trying to disrupt the case.