According to a statement from the Prosecutor-General's Office, an additional group of investigators has been added to the existing team, due to the large amount of work involved.
Russian media, quoting staff at "Novaya gazeta," the newspaper where Politkovskaya worked, had reported that Pyotr Garibyan, the chief investigator on the case, had been replaced by a more senior official.
Media also reported that case supervisor Sergei Ivanov had been removed from overseeing the investigation.
But the Prosecutor-General's Office stressed in its statement that Garibyan continues to head the investigation team supervised by Ivanov.
A senior editor at "Novaya Gazeta," Sergei Sokolov, says the team investigating Politkovskaya's murder has been "strengthened."
Speaking to RFE/RL's Russian Service, Sokolov said he was not surprised about the information "games" surrounding the investigation, considering the political undertones of the case.
"The newspaper considers the current arrangement of figures not very suitable, and we will continue to work with [chief investigator] Pyotr Garibyan. But no one has been dismissed" from the case, Sokolov said.
"New arrests have been made, and a lot of interrogations are to be carried out; new information is emerging. From the investigative perspective, the case has turned out to be much more complex and difficult than it was thought to be initially," Sokolov said.
Russian Prosecutor-General Yury Chaika on August 27 told journalists that the Politkovskaya case had been solved. He said that 10 people had been arrested in connection with the murder, and that an organized crime group and foreign-based enemies of the Kremlin were behind the crime, which he said was aimed at discrediting President Vladimir Putin and destabilizing Russia.
Since Chaika's comments, two unnamed suspects have been released.
Politkovskaya, an outspoken critic of the Kremlin, was shot dead outside her apartment in October 2006, in what police described as a contract killing.

Reading Politkovskaya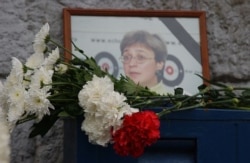 A memorial for Anna Politkovskaya in Moscow shortly after her murder (epa)


'A SMALL CORNER OF HELL': RFE/RL's Russian Service invited a number of prominent Russians to read passages from Anna Politkovskaya's second book on the war in the North Caucausus, "A Small Corner Of Hell: Dispatches From Chechnya" (see transcripts in Russian).The excerpts below are in Russian and are each about five minutes long.
LISTEN
Nikita Belykh, head of the Union of Rightist Forces:
Real Audio Windows Media
Sergei Buntman, political commentator with Ekho Moskvy:
Real Audio Windows Media
Andrei Babitsky, RFE/RL Russian Service correspondent:
Real Audio Windows Media
Vyacheslav Izmailov, "Novaya gazeta" journalist:
Real Audio Windows Media
Marianna Maksimovskaya, host of REN-TV's "Nedelya":
Real Audio Windows Media
Eduard Limonov, head of the National Bolshevik Party:
Real Audio Windows Media
Svetlana Sorokina, television journalist:
Real Audio Windows Media
CHRONOLOGY
The
fighting in Chechnya
has raged, with short breaks, since 1994. It has brought misery, death, and destruction to the North Caucasus republic and to Russia as a whole. View an
annotated timeline
of the conflict
.

ARCHIVE
RFE/RL's complete coverage of Russia's war-torn Republic of Chechnya.